Please be advised: THIS EVENT IS SOLD OUT! 
Social media is an amazing tool to connect with your audience and promote your business. In this session, we'll discuss the importance of having a social media strategy and the ways it can benefit your business. In addition, you'll learn in-depth information about each platform and their demographics so you can determine which ones your business should be on. You'll leave with the knowledge and skills to take your brand's social media presence to the next level!
Join the Arizona Technology Council and the founders of Bloguettes on Tuesday, November 28 at Galvanize in Downtown Phoenix for a social media boot-camp to help you get your company engaged on the appropriate platforms to drive growth. 
---

Who Should Attend?
Business Owners
Managers
Marketing Professionals
Sales Managers
PR Professionals
Designers
Writers
Business Development Leaders
About Bloguettes
Bloguettes is a design and consulting studio building aspirational brands and telling impactful stories. Developing your business or expanding your blog should be fun, so Bloguettes provides business owners, creatives, and the like with the information, resources, and tools they need to get started and find success online.
---
About the Presenters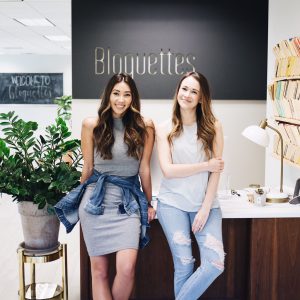 Lorena Garcia and Sakura Considine are the co-founders of Bloguettes! Lorena has always been an entrepreneur at heart and is passionate about the technology and digital industry. In addition to being the Head of Strategy and Business Development at Bloguettes, she handles her own fashion and lifestyle blog, Call Me Lore. Sakura has loved graphic design, photography, and the internet world since she was young, and her true passion lies in blogging and marketing. Sakura is currently the Creative Brand Director of Bloguettes and also manages her own design and lifestyle blog, Something Sakura.
Presented By
Bloguettes
Location
515 E Grant St.
Phoenix , AZ 85004
Venue
Galvanize
Date
November 28, 2017
Time
11:30AM-1:00PM
Cost
[AZTC Members, FREE] [Non-Members, $15]
Register