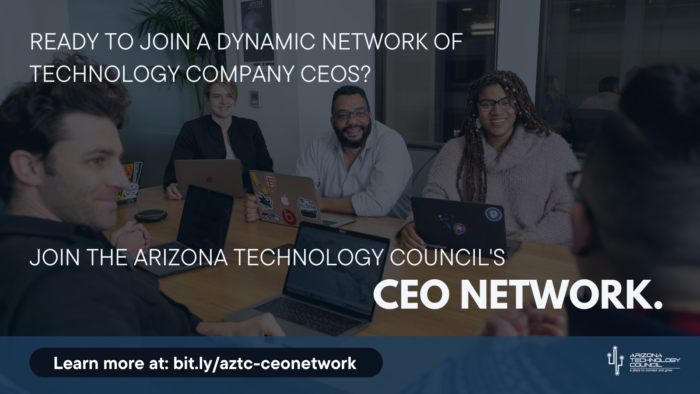 The Arizona Technology Council is committed to equipping technology company CEOs with the resources, network and support they need to lead with purpose and confidence. We understand that your leadership has a profound impact on your business's key results and outcomes, so we have worked hard to offer a forum where you can prioritize your personal and professional growth in a safe space that encourages you, challenges you and is invested in your success and well-being.
Meeting once a month in person for a half day, the Council's CEO Networks in Phoenix and Tucson are designed to help CEO Networking grow their leadership, recognize their big wins, share their most frustrating obstacles and problem solve with other CEOs who experiencing similar highs and lows on their leadership journeys.
Phoenix
The Council has launched its Phoenix-based CEO Network for 2024! For just $1,500 annually, CEOs convene once a month for a half day in central Phoenix to follow the Vistage model of executive coaching and peer advisory. This opportunity is available on an application basis for any CEOs or executive network group who lead technology companies. We are not accepting service-provider CEOs at this time.
APPLY FOR THE PHOENIX CEO NETWORK. To learn more, please email Darryle Emerson at [email protected].
Tucson
The Council's Tucson CEO Network brings senior business leaders together in a comfortable and confidential atmosphere to discuss business issues specific to the aerospace and defense industry in Southern Arizona and Arizona as a whole. These executives share valuable experience, insights, and advice with other members of the group. CEO Networking meetings are held on a rotating basis at member companies, where tours are conducted, and best practices are highlighted. In addition, speakers from government, industry, academia, and other industries make presentations to the CEO Networking group at monthly meetings.
2022 Members:
Mary Bailey, Rincon Research
Shubhayu Chakraborty, CIS Global
Paul DeHerrera, Innovative Avionics
Robert Futch, Delta Development Team
Stephen Fleming, Center for Quantum Networks
Callie Groth, BlackBar Engineering
Dennis Kenman, Tucson Embedded Systems
Patrick Marcus, Marcus Engineering
Alex Rodriguez, FreeFall 5G
Marilyn Speert, TMM Precision
Howard Stewart, AGM Container Controls
Austin Yamada, The University of Arizona Applied Research Corporation
Darrel Yarbrough, Yarbrough Electronic Sales
To learn more, please email Karla Morales at [email protected].
Important Notice
Although important relationships are often forged within the executive network groups, the CEO Networking is not "a lead" or networking group, nor is it intended for members whose companies are in a turnaround situation.