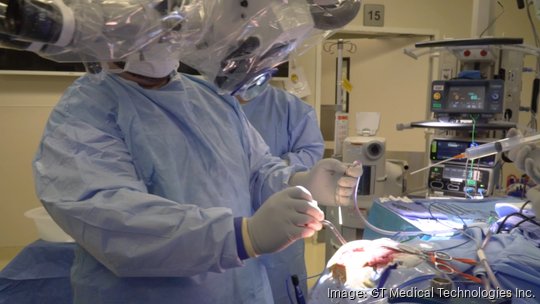 Tempe-based GT Medical Technologies Inc. raised $45 million to expand its technology to treat patients with operable brain tumors.
The funding will be used to expand the company's commercialization of its GammaTile Therapy, a targeted radiation therapy the U.S. Food and Drug Administration cleared in July 2018 for patients with operable brain tumors.
This series C financing follows a $16 million raise in November 2020 and a $10 million raise in early 2019. To date, the company has raised more than $74 million, said Matthew Likens, president and CEO of GT Medical Technologies.
The latest round of funding was led by Gilde Healthcare Partners, with participation from existing institutional investors MVM Partners, MedTech Venture Partners and BlueStone Venture Partners.
Funding also will support clinical studies for patients with brain metasteses, glioblastomas and meningiomas, Likens said.
More than 400,000 Americans are newly diagnosed with some type of brain tumor each year, according to the Central Brain Tumor Registry of the United States.
"We've got five studies that our goal is to generate randomized, controlled trial data that clarifies the highest standards showing how much better GammaTile is than today's standard of care," Likens said.
GT Medical's GammaTile Therapy is different from traditional radiation therapy, which cannot be initiated until several weeks after brain tumor removal surgery. But that gives time for any remaining tumor cells to grow while the patient is healing from surgery.
Now, these tiles made out of collagen and containing radioactive seeds can be placed immediately in the cavity as soon as the rain tumor is removed.
This "one and done" treatment eliminates the need for one to six weeks of external beam radiation therapy, without the burden of additional trips to the hospital or clinic for ongoing treatment, Likens said.
Since its full market release in the United States in March 2020, GammaTile has been offered in more than 90 hospitals, as more centers continue to be added.
With 60 employees, GT Medical is outgrowing its space at its Tempe offices.
Likens said he was waiting to see if this series C round of funding would come through before moving into larger space.
"We're committed to this building to the end of this year," He said. "We're searching now. We've already got a broker."
---
Register for the Council's upcoming Phoenix and Tucson tech events and Optics Valley optics + photonics events.
---