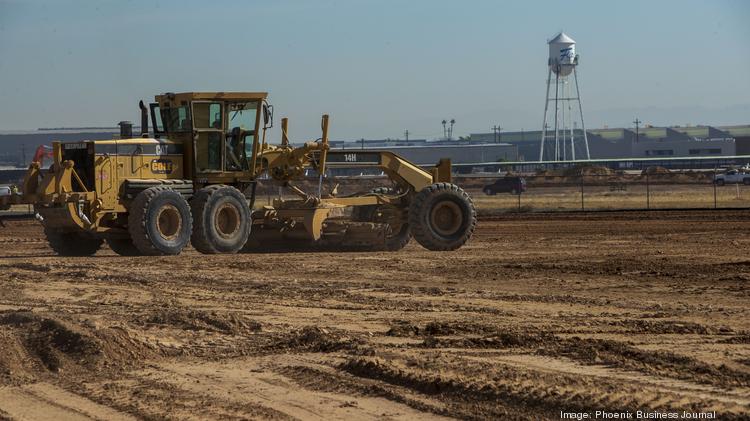 Driving near the Phoenix Goodyear Airport it's hard to miss the array of commercial planes fronting a backdrop of the Sierra Estrella mountains.
The West Valley airport once sat as an island amid masses of vacant and agricultural land, but the surrounding area has become a fortress of industrial buildings now home to such giants as UPS, FedEx, Chewy Inc. and Amazon.com Inc.
Industrial development has boomed around the airport in recent years because of competitive incentive programs and the advent of so-called Opportunity Zones. Limited available land near Phoenix also pushed developers and companies to look toward West Valley cities like Goodyear as demand for industrial space increased.
As a result, development has taken wing in recent months as about 800 acres around the airport have sold and massive projects comprising at least 10 million square feet between dozens of buildings have been proposed or are starting to rise, while new tenants continue taking down existing space. The growth is helping the city transform the 2,500 acres it is marketing near the airport — from Van Buren Street south to near Broadway Road and from Bullard Avenue to Litchfield Road — into a key job and technology hub for Goodyear and the West Valley.
"What you've seen over the last few years is a lot of that really starting to happen now, especially north of Yuma Road," said Harry Paxton, Goodyear's economic development deputy director. "A lot of industrial activity around the airport, which has been planned for some time, will be and is becoming a major employment corridor for the city."
Currently, there's at least a dozen industrial or business parks proposed or already built in close proximity to the airport, which is one of two massive industrial corridors in Goodyear that continues to dominate in growth in the West Valley.
What is the Phoenix Goodyear Airport?
Before the area was known as a major industrial hub, the Phoenix Goodyear Airport itself served as a U.S. Naval air facility to test, fly and deliver aircraft during World War II. The city of Phoenix eventually purchased it as a reliever for Sky Harbor International Airport in 1968, and now the 789-acre site is used for major repair operations, pilot training and corporate aviation services. About 12 corporate aircraft are based in Goodyear as of 2021, the city said.
The airport includes fixed-base operator Lux Air Jet Centers; AerSale, an aircraft maintenance, repair and overhaul business; and the United Aviate Academy, a subsidiary of United Airlines that will operate a new pilot training facility, among other companies.
Flite Goodyear, which was once home to a Lockheed Martin campus, also sits next to the airport and includes 20 buildings with 197,000 square feet of office and 805,000 square feet of industrial space on a county island with companies such as Cavco West, Gorbel Inc. and Prime Solutions Group Inc.
'A land rush'
After cities including Phoenix and Tolleson built out their industrial areas, developers looked west as industrial demand increased over the past decade. Since Avondale wanted more residential and community projects, developers "leap-frogged" to the next best option, which included the Loop 303 and the Goodyear airport areas, said Brian Gleason, senior vice president for Colliers International in Arizona.
The city of Goodyear initially hoped that Bullard Avenue alongside the airport would become a flex technology corridor similar to Price Road in Chandler, Gleason said, but due to the inexpensive land, developers chose to bring warehouses at least 250,000 square feet or more in size to the airport area instead.
"They realized that this is not who was going to come to Goodyear, that they were going to continue to go to Chandler, Tempe," Gleason said. "So [Goodyear rezoned] this an industrial area, and low and behold, three years ago, there was a land rush on this particular area."
As facilities such as the Michael Lewis Co., Chewy Inc. and The Hub at Goodyear were being developed, Gleason said about three years ago the airport corridor also experienced a "data center boom."
"The airport area became extremely attractive, and sure enough, three, four years ago Microsoft comes in and buys 200 acres south of MC 85, south of the airport, to put in their data centers," Gleason added. After this, Vantage, Compass and Stream all purchased hundreds of acres to build data centers near the airport.
Goodyear officials say the designation of federal Opportunity Zones in 2018 has also helped spur development around the airport over the last few years. Thousands of acres around the airport are in Opportunity Zones, which can provide tax advantages to land buyers and business owners.
Following the momentum of the data centers, improved infrastructure and the initial industrial facilities and companies moving into the area, more developers have started eyeing the airport.
"They like it because frankly, Goodyear … wants to create a good, diversified community where you have good retail, loads of housing options and a well-diversified economic strata," Gleason said. "You have a strata of locations that executives and middle managers and employees could all be in the same town."
Goodyear was ready with available land for industrial development "at the right time," as other cities in the core of the metro started to fill up, he said.
The city still has thousands of acres in these prime industrial areas: Interstate 10, Loop 303, MC 85 and the proposed State Route 30, which could connect Interstate 17 out west to Buckeye to relieve traffic on I-10.
Developers wanted to create jobs in the West Valley
When Chicago-based developer Dan Slack decided to diversity his projects outside of the Windy City in 2017, his company, Baker Development Corp, turned its sights on Arizona. And Slack ended up being one of the first developers interested in building industrial projects in the Phoenix Goodyear Airport corridor in the past several years.
"We went out, started looking around and saw the activity in the West Valley and it made a lot of sense for a couple of reasons — one was just proximity to the Inland Empire and the fact that a trucker could drive basically a round trip in a day … and the West Valley has a very robust labor pool, and a lot of that labor pool was traversing east to work and coming back west later," Slack said.
The "tremendous amount of growth" also attracted the company to the West Valley. These factors boded well for any future development, said Slack, who has built about 850,000 square feet of warehouse and manufacturing space between multiple projects north of the airport for upwards of $100 million.
Another developer, EJM Development Co., built out much of the initial infrastructure, including roadways and utilities, in the airport corridor seven years ago, which helped kick off its rapid growth with shovel-ready sites north of the airport facility, said Reliance Management President Daryl Burton, a Canadian-born businessman who owns Flite Goodyear.
"That … serviced parcels with water and sewer and a proper road and frontage on Van Buren and Frontage on Yuma — it brought a real business park with good-sized parcels," he said. The land just "sat there" for a while, but Burton added that "when the market got stronger … there was land available to build on."
EJM Development developed Airport Gateway, a nearly 3 million-square-foot industrial park along 143rd Avenue, which is now home to large distribution facilities leased by the likes of Chewy Inc. and Michael Lewis Co.
More development proposed
A few months ago, Phoenix-based LGE Design Build started work on a 2.7 million-square-foot industrial project called Airpark Logistics Center on 170 acres made up of five buildings ranging in size from 320,320 to 730,290 square feet on the southeast corner of Bullard Avenue and Yuma Road adjacent to the airport.
The project is Foreign Trade Zone capable depending on the type of company that locates in the facility. "They need to create a certain amount of capital investment … create a certain number of jobs, and then also pay a certain wage for those jobs," Paxton said.
"Our target really is in high-tech, high-quality jobs that pay a good wage, so those are generally manufacturing companies, but not always, it could be others, but they need to import to be able to qualify for the federal program," he added.
Dallas-based Lincoln Property Co. also recently announced it had purchased 585 acres south of the airport and MC 85 for a planned 7 million-square-foot industrial park that will cost $1.1 billion to develop at full buildout. The first phase is currently being reviewed by the city.
LPC and Harvard Investments purchased the shovel-ready land from Sun MP Investment Properties LLC and will develop the site, which they previously said was one of the last of the large industrial-zoned parcels remaining in Goodyear's industrial market.
In the past year, Sun MP, an entity of SunChase Holdings, has sold off more than 1,000 acres west and south of the airport for more than $170 million between eight sales, according to real estate database Vizzda.
LPC's purchase also came almost a year after Goodyear approved a general plan amendment for an additional 430 acres site south of the airport and MC 85 for industrial development.
The road ahead
In addition to industrial growth, Paxton said the city of Goodyear is marketing the airport corridor from south of Interstate 10 along Bullard Avenue down to the spring training facilities as a technology hub.
Paxton said major investments around the airport include data centers and technology businesses and that the area has significant fiber resources. E-commerce and more manufacturing companies are increasingly considering the area in addition to standard distribution companies, he said.
For projects located on the airport, Paxton said they can also benefit from the Military Reuse Zone, "so if a company locates there, creates jobs, and 51% of those or more serve the aviation or aerospace industry, then they're entitled to certain property tax benefits and construction sales tax benefits," he said.
While there's still "well over a thousand acres" that the city said needs to be developed south of MC 85, Slack of Baker Development said a lot of the properties near the airport have been "spoken for."
"Because of the obvious nature of that property being where it is, it was bought up very quickly, and plans for development were executed very quickly," said Slack. "A lot of it has been spoken for and built on and will be closed out here probably in the next two, three years."
Gleason of Colliers said the city could also focus on bringing more mid-size or flex buildings with warehouse and office space in order to balance the large warehouse and light industrial facilities in the area.
---
By the Numbers:
95,000-plus: Total number of Goodyear residents
9th: Ranking of fastest-growing city in the U.S. from 2010 to 2020
23.9 million: Total amount of square feet in existing industrial space in Goodyear
6.5 million: Total amount of square feet of industrial space under construction in Goodyear
2,500-plus: Total amount of acres the city is marketing for development around Phoenix Goodyear Airport
---
Visit www.aztechcouncil.org/tech-events to view all of the Council's upcoming virtual tech networking opportunities, engaging virtual tech events and in-person tech events.
---