Taiwan Semiconductor names head of state government relations amid Phoenix factory construction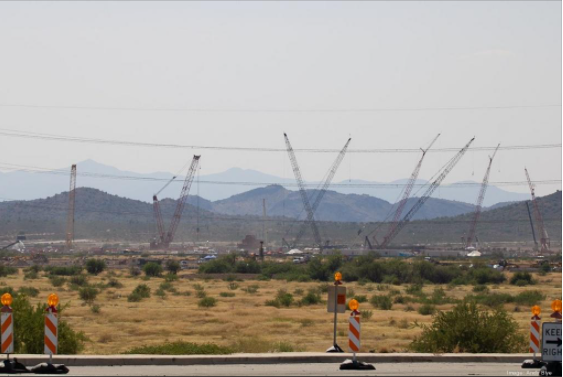 Taiwan Semiconductor Manufacturing Co. has named Laura Franco French as its director of state government relations in Arizona as the company continues construction of its $12 billion computer chip factory in Phoenix.
French joins TSMC after leaving Phoenix Mayor Kate Gallego's office, where she worked as a senior policy adviser. She also previously worked for Greater Phoenix Leadership and the Arizona Office of Tourism. In her new role French will act as a liaison between TSMC and state and local governments.
Additionally, Greg Jackson has joined TSMC as a director of facility operations, according to a LinkedIn post he made last week. Jackson previously worked at Onsemi, a fellow semiconductor manufacturer based in Phoenix.
TSMC continues in the early stages of construction at its new facility, just north of the Loop 303 freeway in Phoenix. About 10 cranes are visible from Interstate 17, east of the forthcoming factory, and construction activity around the site has picked up in recent weeks.
A new road for construction traffic has recently been paved west of the I-17 and Dove Valley Road intersection in Phoenix, giving workers more direct access to the land that was previously undeveloped.
The new factory (called Fab 21) will be the first the company builds in the U.S. after building the majority of its plants on the island of Taiwan. TSMC has already hired hundreds to staff the new factory and the company's hiring website still lists more than 40 job openings in Phoenix.
TSMC's presence is sure to change the landscape of North Phoenix by boosting business for existing Valley companies and bringing new players to the area as well.
Last month Rinchem Company, a semiconductor services company based in Albuquerque, New Mexico, announced a new partnership with "one of world's largest semiconductor manufacturers." 
A company representative would not confirm or deny that the announcement was related to TSMC, but the announcement said the company would manage the chemical supply chain and support upcoming operations in Phoenix. Besides Intel's $20 billion plant extension in Chandler and TSMC's new site in Phoenix, there are no other major fabs under construction in the Valley.
In January, Rinchem announced a 50,000 square foot expansion to its existing site in Chandler, which is expected to cost $10 million and create 25 new jobs. Last month the company said it would break ground on a new warehousing and transportation facility in west Phoenix as soon as 2022 to support the unnamed chipmaker.
---
Visit www.aztechcouncil.org/tech-events to view all of the Council's upcoming virtual tech networking opportunities, engaging virtual tech events and in-person tech events.
---