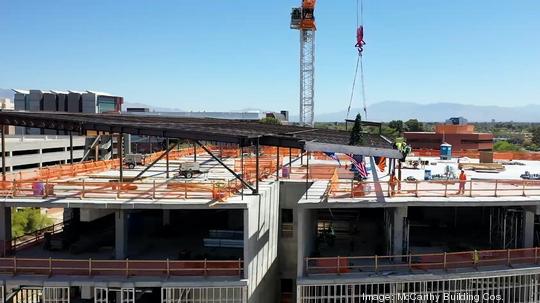 University of Arizona has topped out its new $85 million research building on its Tucson campus.
Expected to be completed by January 2023, the 89,000-square-foot Applied Research Building will be the future home for research furthering space exploration, advanced manufacturing and the development of imaging technology.
Designed by SmithGroup, McCarthy Building Cos. is the general contractor for the project that will include what is being touted as the largest thermal vacuum chamber at any university in the world. This chamber is used to stimulate environmental conditions in space to test balloon and satellite performance.
Mike Lee, McCarthy's ARB project director, said the facility is largely dedicated to research.
"The core of the building allows for different materials and equipment to be tested inside of the chamber," he said.
While it won't include classroom space, students will have access to the building for their own research projects, he said.
As a design-build project, McCarthy and SmithGroup were able to overcome many of the supply chain issues that other projects are facing, Lee said.
"That collaboration really allows you to get out in front of everything going on with supply chain, resources, workforce," he said. "The result is that ARB is on schedule and on budget even as modifications were made throughout construction."
Construction of the building is designed to meet LEED Silver certification, based on the U.S. Green Building Council's rating system for sustainably designed buildings.
---
Register for the Council's upcoming Phoenix and Tucson tech events and Optics Valley optics + photonics events.
---