May 2023 episode | Microelectronics: Tiny technology with a massive impact
The May 2023 episode of the Arizona Technology Council's AZTechCast podcast featured experts including Joe Cestari, executive director at Kiterocket; Travis Kelly, president and CEO of Isola Group and chairman of the Printed Circuit Board Association of America; and Monica McDade, project manager...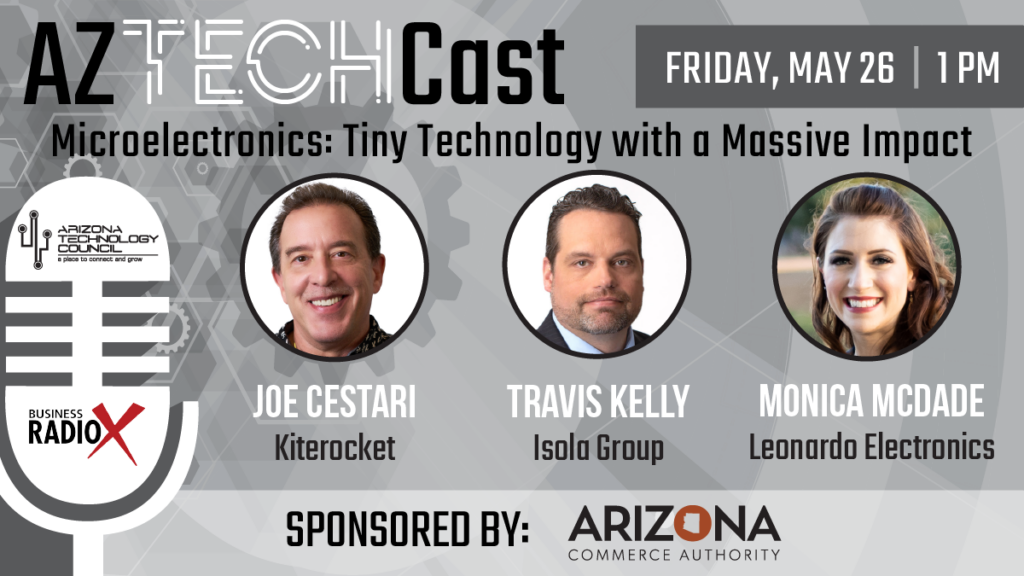 Episode
Overview
Subscribe to AZ TechCast today so you never miss an episode.
While small in size, microelectronic components are an increasingly important part of many industries, ranging from transportation to healthcare to aerospace and defense.
The May 2023 episode of the Arizona Technology Council's AZTechCast podcast featured experts including Joe Cestari, executive director at Kiterocket; Travis Kelly, president and CEO of Isola Group and chairman of the Printed Circuit Board Association of America; and Monica McDade, project manager at Leonardo Electronics US – Laser Solutions. These leaders joined Bianca Buliga, director of marketing + communications at the Arizona Technology Council, and Karen Nowicki, president and owner of Phoenix Business RadioX, in discussing the most innovative and transformative ways that companies are using microelectronics.
In this hour-long episode, the panel of three experts defined microelectronics and the many sub-categories that exist within microelectronics, including semiconductor chips, printed circuit boards and even lasers. While many of these products seem to only exist in high-tech labs, we all unknowingly interact with microelectronics on a daily basis, whether they're in our smart phones, cars or kitchen appliances. The everyday applications of microelectronics are paving the way for the future of many different industries, including smart cities, the internet of things (IoT) and even artificial intelligence.
Joe Cestari earned a bachelor of science degree in electrical and computer engineering from Baylor University and has completed graduate studies in international business and the management of technology. He has more than 25 years of global business experience and led the establishment of multiple entities in Asia focused on high-purity process systems fabrication, installation and service. During the episode, Joe was representing Kiterocket, a public relations agency that helps technology companies across a wide range of industries enhance their brand strategy, media and influencer relations, digital marketing and more. Despite their PR focus, Kiterocket employees must stay up-to-date on technology news and specializes in semiconductor manufacturing. Joe emphasized that while engineers and other technical occupations are in high demand within the microelectronics space, other skills like public relations and marketing are also needed.
Travis has been the chairman and CEO of Isola Group since 2018. Prior to that, he held leadership positions at Cerberus Capital Management and Visteon Corporation. He also serves as the chairman of the Printed Circuit Board Association of America, which was formed in 2021 to revitalize the domestic printed circuit board industry that had suffered a serious decline over the past 20 years. While Joe explained semiconductors as "the body", Travis said that printed circuit boards serve as "the head" that tells the semiconductor chips what to do. Beyond explaining the importance of printed circuit boards, Travis also weighed in on the global challenges that stand in the way of microelectronics research and development, like supply chain and geopolitical issues. Through public policy and private investment, the United States has a big opportunity to double down on its global competitiveness in microelectronics manufacturing and reduce its reliance on offshoring practices that proved to be problematic during the COVID-19 pandemic.
Monica received her bachelor of science degree in optical engineering from the University of Arizona and has 10 years of industry experience. She joined Leonardo Electronics US in 2014 as an engineering assembly manager and is currently serving as a project manager. She uses her manufacturing, sales and supply chain background to support new product introduction, moving cutting-edge laser diode products from prototype to production. Leonardo's expertise is in a broad range of engineering disciplines, supporting system integrators from design through high-volume production to meet performance, design, environmental and cost demands. Throughout the conversation, Monica emphasized the important rare playing a pivotal role in ensuring that Arizona has the skilled workforce it needs to meet the workplace demands of tomorrowole that microelectronics play in the optics and photonics industry, which has a huge foothold in southern Arizona. Though her roots are at the U of A, Monica emphasized that four-year degrees are not the only way to build skills and find a job within the microelectronics space – going the technical or vocational school route is another legitimate way to penetrate the industry.
In conclusion, microelectronics are only becoming more sophisticated and making more social progress possible, particularly within the medical technology space. It was a pleasure to have these three guest speakers on our podcast to share their expertise. Take a listen below to hear more of what they had to say!
JOE CESTARI
Executive Director, Kiterocket

TRAVIS KELLY
President and CEO, Isola Group and Chairman, the Printed Circuit Board Association of America

MONICA MCDADE
Project Manager, Leonardo Electronics US Inc – Laser Solutions

About AZTechCast
The official podcast of the Arizona Technology Council, AZTechCast is dedicated to covering innovation and technology in Arizona and beyond. Through the art of the connected conversation, AZ TechCast's hosts and guests share success stories, tech news and analysis about the region's leading startups, companies and emerging technologies, as well as the latest industry trends and critical issues propelling Arizona's growing technology ecosystem. Visit www.aztechcouncil.org/techcast to learn more or to listen to recent episodes.
About Phoenix Business RadioX
Karen Nowicki is the owner and president of Phoenix Business RadioX. Amplifying the voice of business, Phoenix Business RadioX helps local businesses and professional associations get the word out about the important work they're doing to serve their market, profession and community. A successful author, speaker and the creator of Deep Impact Leadership™ and SoulMarks Coaching™, Nowicki is a two-time recipient of the prestigious national Choice Award® for her book and personal development retreat. In addition, Nowicki has been an expert guest on regional TV and radio shows, including Fox Phoenix Morning Show, Sonoran Living, Good Morning Arizona, The Chat Room and Mid-Day Arizona. Recognized for her leadership and business acumen, she has been a regular contributor to many print and online magazines – publishing articles and blogs for business and education.
---
Register for the Council's upcoming Phoenix and Tucson tech events and Optics Valley optics + photonics events.
---