April 2023 episode | Developing a Future-Proof Arizona Workforce
The April 2023 episode of the Arizona Technology Council's AZTechCast podcast featured experts including Rob Buelow, program director of the AZNext Workforce Development Partnership at ASU; Dr. Daniel Corr, president of Arizona Western College; and Kathy Prather, CEO and superintendent of Pima Jo...
Episode
Overview
Subscribe to AZ TechCast today so you never miss an episode.
From Flagstaff to Yuma, Arizona is home to numerous educational institutions that are evolving rapidly to keep pace with the state's tremendous economic growth. Every day, they are rolling out new programs, adding new classes and upskilling their educators to train the manufacturers, engineers, scientists and inventors of tomorrow.
The April 2023 episode of the Arizona Technology Council's AZTechCast podcast featured experts including Rob Buelow, program director of the AZNext Workforce Development Partnership at ASU; Dr. Daniel Corr, president of Arizona Western College; and Kathy Prather, CEO and superintendent of Pima Joint Technical Education District. These leaders joined Steve Zylstra, president and CEO of the Arizona Technology Council, and Karen Nowicki, president and owner of Phoenix Business RadioX, in discussing their unique approaches to building the highly skilled and diverse workforce of the future.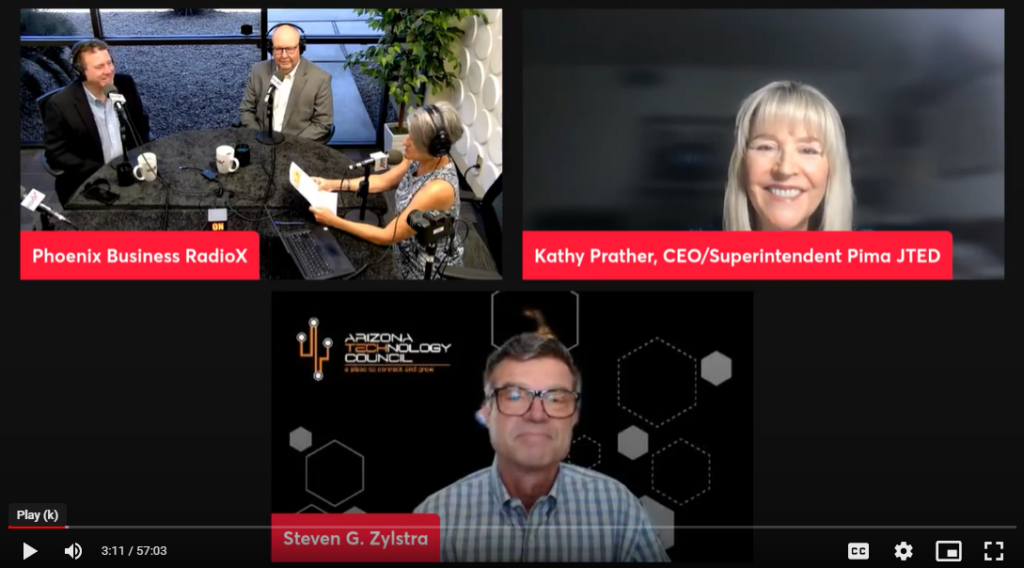 In this hour-long episode, the panel of three experts defined workforce development and broke down its importance for Arizona's statewide economic growth. With the influx of companies moving into Arizona, it's critical that we are building a highly skilled and prepared workforce that can fill needed roles. They discussed the key stakeholders that play a role in workforce development and mentioned that partnerships between the public and private sector are required to bridge the divide between educational curriculum and the professional skills that will support the technology ecosystem of the future. While they focused primarily on skill-building for K-12 and higher education students, the panel also touched on the opportunities available for mid-career professionals that are looking to upskill or reskill.
Rob Buelow has over 20 years of aerospace manufacturing industry experience in project and program management, process design and improvement, program implementations, team leadership and business and customer management. He has spent the last two years as the program director for the AZNext Workforce Accelerator Partnership at Arizona State University (ASU). AZNext is a U.S. Department of Labor-sponsored program that is developing a sustainable workforce training infrastructure intended to create talent solutions to meet industry needs through paid internships, apprenticeships, train-to-hire programs, boot camps and simulated work experiences. AZNext works with over 60 industry partners to determine what workforce skills are needed, then uses the resources of ASU to develop training programs to deliver those skills. The areas of focus for the program are information technology, cybersecurity and advanced manufacturing.
Dr. Daniel P. Corr began his tenure as the ninth president of Arizona Western College (AWC) in July 2016. During his tenure, he has been committed to building on the tremendous success achieved by AWC as an active member of the many communities served by the college. He has focused his early efforts on facilitating student success, increasing access to higher education, and fostering a climate of innovation, collaboration and stewardship at AWC. Located in the sunny, southwest corner of the state, AWC supports Yuma and La Paz communities with over 170 degrees and certificates in a wide range of academic and career and technical programs as well as non-credit courses in professional development, customized training, and personal enrichment areas. With 12 different locations and a service area that spans 10,000 square miles, AWC also boasts a diverse international program with students from over 40 different countries. Because of that, AWC is equipped to serve an incredibly diverse student population that has some of the highest rates of non-native English speakers and first-generation Americans and college students in the country.
Finally, Kathy Prather became the superintendent/CEO of Pima JTED on July 1, 2018, one year after being appointed as the district's deputy superintendent. Her career in education spans 29 years and multiple locations throughout Arizona. Pima JTED (Joint Technical Education District) is a public school district in Arizona and one of 14 Arizona Career and Technical Education School Districts. It serves all high school-aged youth tuition free in their service area that covers over 12,000 miles of Southern Arizona, including Pima County and parts of Santa Cruz and Pinal Counties. Pima JTED works in collaboration with the 14 area member public school districts and its tuition-free programs are open to any youth living in the area, whether they attend public, charter, private or are home-schooled. Current year enrollment exceeds 27,000 satellite and central campus students. Most of the programs offer free dual college credit and all programs offer recognized industry credentials, certificates or licenses and work-based learning opportunities that may include clinical experiences, school-based enterprises, internships or externships.
In conclusion, these three leaders are playing a pivotal role in ensuring that Arizona has the skilled workforce it needs to meet the workplace demands of tomorrow. Learn more about their unique approaches to workforce development by listening to the podcast episode below!
ROB BUELOW
Program Director, AZNext at ASU

DR. DANIEL CORR
President, Arizona Western College

KATHY PRATHER
CEO/Superintendent, Pima JTED

About AZTechCast
The official podcast of the Arizona Technology Council, AZTechCast is dedicated to covering innovation and technology in Arizona and beyond. Through the art of the connected conversation, AZ TechCast's hosts and guests share success stories, tech news and analysis about the region's leading startups, companies and emerging technologies, as well as the latest industry trends and critical issues propelling Arizona's growing technology ecosystem. Visit www.aztechcouncil.org/techcast to learn more or to listen to recent episodes.
About Phoenix Business RadioX
Karen Nowicki is the owner and president of Phoenix Business RadioX. Amplifying the voice of business, Phoenix Business RadioX helps local businesses and professional associations get the word out about the important work they're doing to serve their market, profession and community. A successful author, speaker and the creator of Deep Impact Leadership™ and SoulMarks Coaching™, Nowicki is a two-time recipient of the prestigious national Choice Award® for her book and personal development retreat. In addition, Nowicki has been an expert guest on regional TV and radio shows, including Fox Phoenix Morning Show, Sonoran Living, Good Morning Arizona, The Chat Room and Mid-Day Arizona. Recognized for her leadership and business acumen, she has been a regular contributor to many print and online magazines – publishing articles and blogs for business and education.
---
Register for the Council's upcoming Phoenix and Tucson tech events and Optics Valley optics + photonics events.
---