Phoenix hosts largest-ever delegation of automotive, semiconductor industry leaders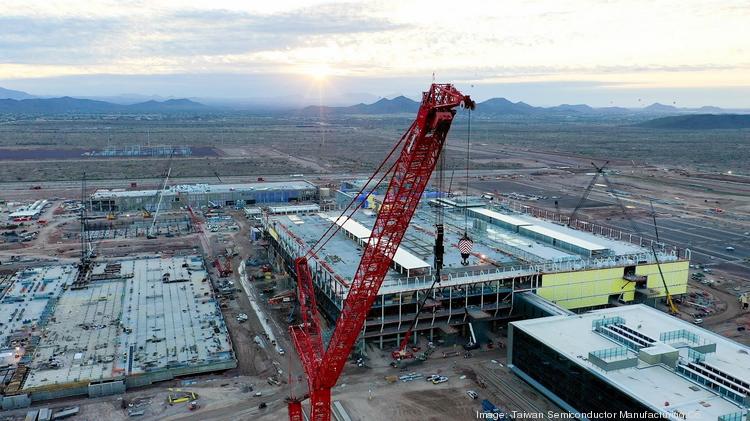 In a signal of the Phoenix metro's growing presence in the automotive and semiconductor industries, more than 60 companies in those sectors — mostly from Taiwan and Singapore as well as Japan, New Zealand, Switzerland and Ireland — converged in the Valley in the past week to learn about expansion opportunities.
It was the largest business delegation ever hosted by the Greater Phoenix Economic Council and it was part of the SelectUSA Investment Summit events taking place in April and May. The business leaders participated in a two-day event on April 27-28 that included networking with industry leaders, roundtable discussions, tours and presentations on education, workforce and expanding and operating in the U.S. and Phoenix region.
The event marked Phoenix's first time hosting a spinoff from the larger SelectUSA summit that is hosted annually by the U.S. Department of Commerce to promote foreign-direct investment in the country. The federal government has been promoting incentives and pushing for domestic manufacturing in recent years, which has helped bring in new investments by some of the largest tech companies in the world.
Phoenix is one of about a dozen spinoff events that were selected through an application process and this year included stops across California, Washington, Texas, New Mexico, Virginia, Maryland, Montana and Florida. Phoenix was selected for a spinoff event at the same time that Arizona has seen a boost in relocation or expansion interest from international companies.
"We were happy that we got awarded this. Our goal is that it's not our only one, that we can do this and improve on it every year," said Thomas Maynard, senior vice president of business development for GPEC. "These investments could go anywhere, so we need to make sure we're here to make the case for Arizona."
GPEC: Need to build local base of talent
GPEC's event focused specifically on the electric and autonomous vehicle and semiconductor industries given the state's fast-growing ecosystem of microchip manufacturers and suppliers and electric vehicle and battery manufacturers and startups. In the past year, more than $46 billion in investments were announced for new factories by Taiwan Semiconductor Manufacturing Co., LG Energy Solution and others in Arizona.
In the first day, participants met at GPEC's downtown Phoenix office and were provided with a regional overview; a workforce panel from education leaders like Arizona State University and Grand Canyon University; an industry seminar with TSMC, Battle Approved Motors and Nikola Corp.; two networking events and a presentation on what it takes to expand in the U.S. and states like Arizona.
GPEC leaders pitched Phoenix as a place conveniently located between major markets such as California, Mexico and Texas, and a region that has a growing workforce to support companies.
"What was unprompted for us but interesting to see is all of the industry partners said, 'No, we need to have more industry here.' It's not a competition that we're stealing engineers from one to the other. We have to build the base of talent across the board and we can only do that if we attract more entities here," Maynard said.
GPEC has hosted 6 visits this year
Maynard said GPEC's strategy in pitching Phoenix to the delegation was more broad for this event since the companies travelled from multiple countries.
The economic council's presentation on how to expand in Arizona and the U.S. overviewed construction and permitting, immigration processes, real estate, incentives, banking and workforce culture compared to other parts of the world like Asia. TSMC and suppliers have said that it's significantly more expensive and timely to build facilities in the U.S. compared to Taiwan.
"Yes, it is difficult to make an investment in the U.S. no matter where you are or what state you are, there's a lot of hurdles to jump through," Maynard added. "The goal is at the end of the day, they know the government is here to help, they have the workforce, partners and support, there's other industries that have done this."
The second day, on Friday, took guests to see existing semiconductor or electric vehicle operations in Phoenix, ASU's MacroTechnology Works and also featured pitches from some cities across the Valley.
So far this year, GPEC has hosted six delegations of various sizes mostly in the semiconductor industry as well as in clean technology, bioscience and life science and startups. GPEC hosts its own delegations but also partners with state and city leaders to host companies to educate them on the region and to win over more economic development in Arizona.
Earlier this year, both state and Valley leaders used the Super Bowl LVII as an opportunity to fly in company executives, give them tours of Phoenix and provide informational events. The Arizona Commerce Authority, Cardinals owner Michael Bidwill and the Super Bowl Host Committee also hosted a visiting CEO program with leaders from 70 different companies that came to Phoenix.
---
Register for the Council's upcoming Phoenix and Tucson tech events and Optics Valley optics + photonics events.
---