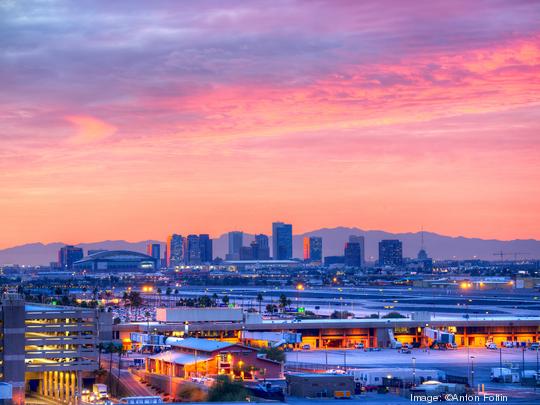 An 18-member coalition led by the Greater Phoenix Economic Council was awarded a $500,000 grant for its proposed health care innovation project from the U.S. Economic Development Administration.
On Monday, U.S. Secretary of Commerce Gina M. Raimondo announced 60 finalists for the EDA's $1 billion Build Back Better Regional Challenge, which aims to boost economic pandemic recovery and is tied to the Biden administration's coronavirus relief package.
The 60 finalists include coalitions that have proposed projects to develop or scale industry sectors, develop and train the workforce and build resilient economies, EDA said in a statement. Twelve of the finalists were from places tied to the coal industry.
GPEC is leading a coalition for New Healthcare Innovation Economy, a project that's proposing an inclusive end-to-end health care innovation ecosystem that achieves "new wealth creation opportunities" across broad social, demographic and economic groups and geographies.
The goal, according to the project description, is to capitalize on the "rapid shift in health care from disjointed care across traditional hospitals and clinical settings toward seamless continuity of care in home and community settings."
"This project is really focused on the transformation that's going on within health care," Kathleen Lee, senior vice president of regional initiatives with GPEC, told the Business Journal. "Health care is one of the largest sectors within the greater Phoenix region, and technology has really enabled health care to go beyond the hospital into homes and other alternative sites of care, whether that technology is remote monitoring or telemedicine or wearables…
"We have lots of health care systems and other leaders that are leading the way in that transformation and we believe there is great opportunity for economic growth in terms of jobs and new investments and new venture growth within that space," she added.
With a grant, the project proposes to make risk capital more readily available to Arizona early-stage bioscience firms, further develop research infrastructure at state universities, attract industry and research anchors and develop ties to economic partners in neighboring markets.
In the New Healthcare Innovation Economy, the coalition said entrepreneurs will compete to create viable hardware and software products, as well as technology-enabled services to deliver them, while enterprise and venture capital will invest in, deploy and scale the products. The products would be sold to a market of clinical purchasers, businesses, organizations and direct consumers.
A skilled decentralized clinical and nonclinical workforce will interface with many of the products, while a "diverse set" of firms, business-facing and consumer-facing, will form around hotspots of healthcare innovation and tech activity. "Greater Phoenix intends to be the leading hotspot in the country," the coalition said.
Overall project expected to create 7,500 jobs
Five interrelated projects included in the GPEC proposal are new and small business creation, an entrepreneur support and business incubator called the Virtual Care Innovation Hub, manufacturing development and leadership, workforce of the future, and virtual care accessibility for all.
At full buildout over five years, the five projects are expected to establish 180,000 square feet of new business incubation, engineering, prototyping and manufacturing space; create about 7,500 direct jobs and assist 10,000 to 15,000 personal aid workers into higher paying careers, according to the coalition.
The coalition also anticipates creating 36 new ventures and supporting 80 to 100 startups at the Virtual Care Innovation Hub by year five, with about 30 of the startups projected to reach an average of $10 million in revenue.
"This will really bring jobs and new investment to the greater Phoenix region," Lee said. "In terms of equity, it's one of the priority areas of the EDA, and we have put strong emphasis on equity into our proposal. All of our five projects will have an equity component."
The finalists, including GPEC's coalition, were mostly made up of government, academic and economic partnerships.
They will move on to compete for a second phase of the challenge, which will award 20 to 30 regional coalitions up to $100 million to implement three to eight projects that could shape manufacturing, clean energy and life sciences hubs across the U.S.
The 60 finalists were chosen from a pool of 529 applicants, and each received a grant of $500,000 to further develop their projects. The grants were also awarded to help the finalists move forward in their projects to find new partners and funding if they do not win Phase 2 of the challenge.
"We're very honored to be awarded this grant from EDA. This is a historic investment opportunity," Lee said. "We're really thrilled to be working with our coalition members … from government, private sectors, universities and nonprofits, to put forward a competitive proposal in phase two."
The City of Tucson coalition and Hopi Utilities Corporation coalition were the two other Arizona coalitions that received the $500,000 grant.
The Phoenix coalition includes 18 members:
Lead institution: Greater Phoenix Economic Council
Higher Education: Arizona State University, University of Arizona Health Sciences, Maricopa County Community College District, ASU Difference Engine
Workforce development: [email protected], Chicanos Por La Causa,
Nonprofit/Entrepreneurship: Center for Entrepreneurial Innovation, StartupAZ Foundation
Local government: City of Phoenix, City of Surprise, City Mesa, Maricopa County, Pinal County
Economic development organizations: Phoenix Industrial Development Authority, Maricopa County Industrial Development Authority, Partnership for Economic Innovation
---
Visit www.aztechcouncil.org/tech-events to view all of the Council's upcoming virtual tech networking opportunities, engaging virtual tech events and in-person tech events.
---