Phoenix-based Singlepoint primed for growth after refocusing solar strategy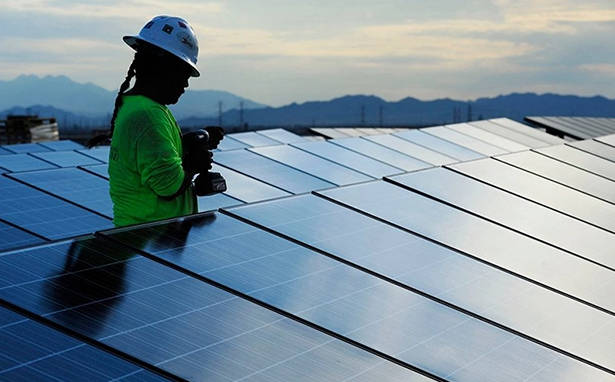 Singlepoint, a renewable energy company based in Phoenix, is on track for major growth thanks in part to a new strategy and recently passed federal legislation.
Singlepoint Inc. (OTCQB: SING) owns several smaller subsidiary companies, most of which work in the solar industry. Most notably, Singlepoint acquired Boston Solar in April, which has already provided a major boost to revenue this year.
Singlepoint reported revenue of $4.53 million for its second quarter ended June 30, a massive 897% increase from the same period last year thanks to Boston Solar.
The company previously had a more scattered portfolio (including in the cannabis industry), but since Wil Ralston became the Singlepoint CEO in May 2021, the business has consolidated and improved.
"Since I became CEO, we've cleaned up the balance sheet, gotten rid of about $9 million in debt," he said in an interview. "We've raised capital to make these acquisitions. And we've really kept the focus, and that was really the key."
Singlepoint spins off assets
Singlepoint has spun off certain assets, secured $10 million in equity funding from GHS Investments in September 2021 and Ralston added other executives last year to support his new vision for the company.
Ralston said the company expects to make between $25 million and $30 million in revenue this year and to grow that figure to between $100 million and $200 million next year.
He also said Singlepoint will soon begin the process of uplisting to the Nasdaq stock exchange, which may be complete by the end of this year, depending on how quickly the process moves.
Despite improvements in the business, Singlepoint is still struggling to generate income; The company lost $3.19 million in the second quarter and reported its results on a going concern basis.
Accessing federal funding
Singlepoint's focus on solar proved timely last month when President Biden signed the Inflation Reduction Act into law.
The IRA is a wide-ranging package that includes $369 billion for climate and energy provisions and incentives for companies to build in the United States. The IRA also made changes to tax law and enforcement, health care costs and more.
The law has already inspired several companies to boost their domestic operations, including Tempe-based First Solar which announced plans to spend $1.2 billion on expanding its solar manufacturing. 
Ralston said he expects the IRA to inspire a major increase in solar projects; The bill added a 10-year extension to the solar investment tax credit, which is a 30% credit for people installing solar on residential properties. 
The company's solar subsidiaries — Direct Solar America, Energy Wyze and Boston Solar — generate about 70% of Singlepoint's income, according to Ralston, with the rest coming from its air purification business.
Selling bullet-resistant products to schools
Singlepoint also owns Box Pure Air, an air purification company. Singlepoint has primarily been working to install these systems in schools, thanks again to federal spending.
The American Rescue Plan, which passed in March 2021, set aside $122 billion to improve indoor air quality at schools, so Singlepoint has been selling to school administrators as they spend the federal funding before it expires.
Singlepoint has developed an expertise accessing these federal funds and as a result, it's expanding into other product lines that are also eligible for government funding. 
Singlepoint has signed a 2-year distribution agreement with Tennessee-based Ballistic Barrier Products, with the goal of selling bullet-resistant window shades and door panels to schools. The Bipartisan Safer Communities Act, which became law earlier this year, enacted new gun control measures and set aside $300 million to implement security measures against shooters that target schools.
Ralston said Singlepoint now employs about 110 people across its subsidiaries, 10 of which are in Phoenix at the company's head office. He said the company is always on the lookout for more acquisition targets and that they plan to expand their footprint locally through acquisition in the future.
---
Register for the Council's upcoming Phoenix and Tucson tech events and Optics Valley optics + photonics events.
---