Nikola Corp. stock rises after company lands $16.3M in infrastructure grants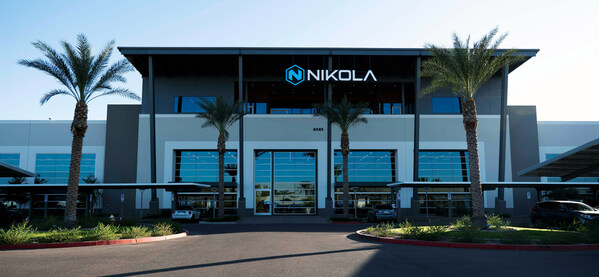 Shares of Nikola Corp.'s received a boost Tuesday after the Phoenix-based electric truck maker announced it landed $16.3 million in hydrogen infrastructure grants.
Nikola's HYLA brand received four grants to support seven hydrogen refueling stations in California. The grant award consisted of $7 million from the Sacramento Metropolitan Air Quality Management District, $4.4 million from the South Coast AQMD, $3.3 million from EnergIIZE West Sacramento California Energy Commission and $1.6 million from the Mobile Source Air Pollution Reduction Review Committee.
Nikola (Nasdaq: NKLA)' shares soared by more than 16.8% on Tuesday, closing at $3.12 on the news of the grant funding. Track the stock here.
To date, Nikola has been awarded $58.2 million in grant funding for its hydrogen refueling stations. Last month, the company announced it received a $41.9 million grant from the California Transportation Commission under the state's Trade Corridor Enhancement Program to deploy its hydrogen refueling stations along freight corridors in Southern California.
"The California grant awards and government funding demonstrate the strong support for the Nikola hydrogen infrastructure brand HYLA's mission of establishing a comprehensive zero-emission transportation solution to help fleets achieve climate goals and improve air quality in the most impacted communities," Carey Mendes, president of Nikola Energy, said in a statement. ""We continue to be grateful for the leadership demonstrated by California agencies in supporting the buildout of a zero-emissions ecosystem."
Nikola said the hydrogen refueling infrastructure is key to supporting its energy business and hydrogen fuel-cell electric trucks.
Nikola — via a partnership with electric vehicle infrastructure company Voltera — plans to develop 50 HYLA refueling stations throughout North America within five years, according to the company.
J.B. Hunt to purchase Nikola trucks
Separately on Monday, Nikola said J.B. Hunt Transport Services (Nasdaq: JBHT), based in Lowell, Arkansas, agreed to buy 10 battery electric and three hydrogen fuel-cell trucks from the company with delivery expected later this month. The trucks would be "strategically located" at facilities serving J.B. Hunt's key routes, including Los Angeles and Phoenix.
HYLA is supplying the hydrogen and fueling infrastructure to J.B. Hunt, according to the company.
Nikola's grant funding award follows the company's recent sale of its planned hydrogen hub project in Buckeye to Australian-based green energy company Forescue Future Industries, which paid $24 million in July to acquire it.
The Phoenix Hydrogen Hub project is currently going through final stages of the permitting process and procurement of long lead equipment is underway, according to Fortescue Future Industries.
Nikola will be a potential customer of liquified green hydrogen from Fortescue Future Industries' hub to support its hydrogen fuel-cell trucks and refueling stations in California and the Southwest.
In addition, Nikola sold 394 acres in Coolidge for $50.4 million to an entity tied to Scottsdale-based STORE Capital Corp. The company signed a ground lease agreement with STORE Capital Corp. to remain in its manufacturing plant on the site.
Nikola is slated to host its annual shareholder meeting at 1 p.m. on Aug. 3, which was adjourned in July as the company sought more time to garner support for a proposal to sell additional equity to generate more capital.
Nikola has implemented cost-saving initiatives to sustain operations, including focusing on its hydrogen fuel cell trucks and HYLA hydrogen refueling business as it looks to shore up additional capital and reduce cash burn below $400 million by 2024.
The company is slated to report its second quarter earnings on Aug. 4.
---
Register for the Council's upcoming Phoenix and Tucson tech events and Optics Valley optics + photonics events.
---