My View: Battery industry promises to supercharge Arizona economy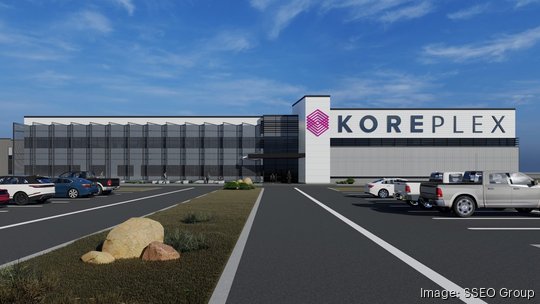 Talk about the stars lining up to create opportunity.
As electric vehicles can be found just about everywhere these days and conversations among a growing Arizona population now include the term "power storage," we're finding out batteries are more than just what's in that rack buried somewhere in the grocery aisles.
With nearly 5,000 Arizona workers at 16 separate companies making and servicing zero-emission trucks and buses, the state's economy now is tied to the batteries that power the vehicles. Even the utilities here are bringing batteries online as they look for ways to power Arizona into the future.
Adding to all is something called the Inflation Reduction Act (IRA) that has generated interest in Arizona beyond our borders. South Korea company LG Energy Solution has resumed a U.S. battery project in Queen Creek with a $5.6 billion investment to qualify for federal incentives included in the act.
The IRA makes it easier and cheaper to purchase an electric vehicle, with upfront discounts up to $7,500 for new EVs and $4,000 for used EVs. And Arizona submitted a plan for using funds included in the separate Infrastructure Investment and Jobs Act to build new electric-vehicle charging stations along highways.
LG Energy Solution is among suppliers and car manufacturers expanding battery production capacity in the United States, with some encouragement by IRA's subsidies. The Queen Creek complex will consist of two manufacturing facilities: one for cylindrical batteries for electric vehicles (EV) and another for lithium iron phosphate (LFP) pouch-type batteries for energy storage systems.
LG Energy: Largest battery facility investment
The project represents the largest single investment ever for a stand-alone battery manufacturing facility in North America. Both facilities—totaling 43 GWh—are expected to break ground this year and ultimately create thousands of jobs. The cylindrical battery manufacturing facility targets mass production in 2025, mainly for EV makers in North America.
And that's just the start. A conditional commitment for an $850 million loan from the U.S. Department of Energy's Loan Programs Office under the Advanced Technology Vehicles Manufacturing Loan Program will be used to fund the construction of KORE Power's advanced battery cell manufacturing facility in Buckeye.
The 1.33 million-square-foot KOREPlex will house multiple production lines to manufacture batteries for EV and energy storage systems in the United States. The facility is expected to begin delivering products by the end of 2024 or early 2025 and create 1,250 jobs when operating at capacity. KORE also is working with Arizona colleges and universities to establish training initiatives and programs to make batteries for EV and stationary energy storage.
Tucson has been selected as home to American Battery Factory's headquarters and the first in a planned series of battery cell gigafactories based in the United States. The site will become the country's largest gigafactory—nearly 2 million square feet—for the production of lithium iron phosphate battery cells, providing an estimated $1.2 billion in capital investment and $3.1 billion in economic impact to the state.
Approximately 300 jobs will be provided in the first phase of the factory's opening, scaling up to 1,000 jobs. The company plans to have the headquarters, R&D center and initial factory module built by the end of 2024. The LFP battery cell chemistry to be used will allow production of the safest, longest-lasting, most reliable and eco-friendly batteries available.
Sion Power, the leading technology developer of next-generation batteries for EV, has more than 100 employees at its manufacturing operations in Tucson and has announced plans for an expansion expected to be completed by 2026 and create more than 150 jobs in an existing 111,400-square-foot building. The new jobs will primarily be engineering, skilled technicians and other manufacturing-related positions. The overall economic impact of the Sion Power expansion is $341 million over the next five years.
Casa Grande company building recycling facility
You might be picturing a mountain of dead batteries piled at the end of the economic rainbow. How do we handle that?
Global battery recycling leader Ecobat is building its first North America lithium-ion battery recycling facility in Casa Grande. It will initially produce an estimated 10,000 tons of recycled material annually, with plans to expand capacity to meet the increasing need to recycle lithium-ion batteries.
Ecobat Casa Grande will repurpose lithium-ion batteries reaching end-of-life through diagnostics, sorting, shredding and material separation to produce a black mass containing the valuable materials in lithium-ion batteries. Expected to open in the third quarter, the facility will be located near the existing Ecobat Resources Arizona facility, which has been using state-of-the-art technology and a highly trained workforce for 15 years to manufacture anodes.
Also, Li-Cycle's Arizona Spoke in Gilbert has started commercial lithium-ion battery recycling operations as the first facility to use proprietary technology for processing full EV battery packs without dismantling them manually, making recycling of those battery packs safer, sustainable and more labor efficient.
The 140,000-square-foot facility presents a significant opportunity for Arizona due to the emerging EV supply chain in the region, as well as its close proximity to large markets such as California, which are expected to produce an increasing number of end-of-life batteries available for recycling from EV, energy storage projects and consumer electronics.
All of this presents powerful potential for Arizona.
Steven Zylstra is president and CEO of the Arizona Technology Council.
---
Register for the Council's upcoming Phoenix and Tucson tech events and Optics Valley optics + photonics events.
---