Major Arizona employers and companies call for 100% carbon-free electricity and new energy efficiency investments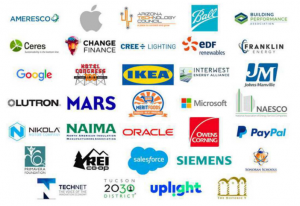 More than 30 large organizations, including major businesses and energy consumers in Arizona, called on the state's utility regulators to finalize and implement new Clean Energy Rules that will require Arizona Public Service Company and Tucson Electric Power to generate 100% carbon-free electricity and expand programs to eliminate energy waste.
"As major businesses, trade associations, employers, and large energy consumers in Arizona, we are committed to increasing the use of renewable energy and energy efficiency in the state," they wrote in a letter delivered to Arizona Corporation Commissioners. "Given our preferences for clean and affordable energy resources, we write to express our support for strong, enforceable clean energy standards in Arizona."
Signatories include Ameresco, Apple, the Arizona Technology Council, Ball Corporation, Google, Hotel Congress, IKEA, Mars, Merit Foods, Microsoft, Nikola Motors, Paypal, REI, and Salesforce, among others.
"We have an opportunity to make Arizona's economy more robust and resilient by investing in clean energy technologies," they wrote. "States with robust clean energy standards create policy certainty - attracting companies seeking to make long-term investments consistent with their sustainability and financial goals. Clean energy helps businesses and institutions save money, hedge against volatile fuel prices, and stay competitive."
The Clean Energy Rules under consideration include a carbon free electricity standard, an energy efficiency standard, an energy storage standard, and improvements to the integrated resource planning process to support greater transparency and competitive bidding. The Rules were developed after years of study, more than a dozen public meetings, thousands of written comments, and hundreds of hours of engagement by stakeholders.
"The Arizona Technology Council members along with the wider business community want to invest in energy innovation and infrastructure here in Arizona," said Steve Zylstra, President and CEO of the Arizona Technology Council. "The Energy Rules will make our state more competitive, attract new businesses, and unlock significant investment."
"The Clean Energy Rules are good for Arizona, now and in the future," said Don Gilligan, President of the National Association of Energy Service Companies. "They will generate billions in economic benefits through energy efficiency alone, by upgrading buildings, improving manufacturing production lines, and installing new sensors and controls to cut energy waste. Doing this work creates local, family-wage jobs that can't be outsourced."
"As a manufacturer of building and roofing insulation products, with a major facility in Tucson, Johns Manville wants Arizona to continue to invest in its clean energy workers," said Bruce Ray, Director of Governmental and Regulatory Affairs for Johns Manville. "We need to support the skills, equipment and training to expand our workforce and position the state to be a global leader that exports its products, expertise and technologies around the world."
The business call for action comes at the conclusion of a public comment period. A final vote by regulators to adopt the Rules is anticipated this fall.
Ceres is a nonprofit organization working with the most influential capital market leaders to solve the world's greatest sustainability challenges. Through our powerful networks and global collaborations of investors, companies and nonprofits, we drive action and inspire equitable market-based and policy solutions throughout the economy to build a just and sustainable future. For more information, visit ceres.org and follow @CeresNews.
---
Visit www.aztechcouncil.org/tech-events to view all of the Council's upcoming virtual tech networking opportunities, engaging virtual tech events and in-person tech events.
---