Arizona Technology Council announces 2020 endorsements for Arizona Legislature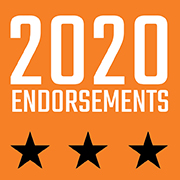 Arizona Technology Council to Release 2020 Vote TechSmart Guide to Provide Details on Why Candidates Were Selected and Why Supporting Technology Matters
In order to provide guidance to its members on Arizona Legislators who support the technology industry's agenda in the upcoming elections, the Arizona Technology Council has released its 2020 endorsements. The support of these candidates is based on several factors, including the most recent two-year voting records of incumbents, written responses to a survey and interviews of new candidates.
"The technology industry plays a critical role in Arizona's economy and its future growth," said Steven G. Zylstra, the Council's president and CEO. "The Council carefully reviews a variety of factors to select the candidates that best represent the future of our industry before announcing our endorsements. We also aim to be transparent with our endorsements and the reasoning behind them, which is why we also publish the Vote TechSmart guide every two years to provide the facts needed to make informed choices."
The Council's Public Policy Committee researches candidates thoroughly to determine whether they provide ongoing support of the technology agenda. The issues most heavily weighted in the Committee's decision to endorse include expanding access to investment capital, supporting tax policy to incent research and development investments, technology-based economic development, advocating for enhanced technology infrastructure, and a strong commitment to improving Arizona's public education system from pre-kindergarten through postsecondary with technology-based and blended learning, STEM education and Career & Technical Education or CTE.
Endorsements are focused on candidates for the state Legislature in Arizona's 2020 elections and the Council backs only those candidates who support a technology agenda, so some districts may have no recommendations. The Council does not provide recommendations on other statewide or congressional races.
In order to provide transparency on selections, the Council will soon be publishing its 2020 Vote TechSmart, a biennial voters' guide that will offer details of its official endorsements of candidates for the Arizona Senate and House of Representatives in the upcoming elections.
The Council's legislative candidate endorsements are:
Arizona State Senate:
Arizona House of Representatives:

District 1: Karen Fann (R)
District 2: Rosanna Gabaldón (D)
District 4: Lisa Otondo (D)
District 5: Sonny Borrelli (R)
District 6: Sylvia Allen (R)
District 7: Jamescita Peshlakai (D)
District 8: T.J. Shope (R)
District 9: Victoria Steele (D)
District 10: Kirsten Engel (D)
District 11: Vince Leach (R)
District 13: Sine Kerr (R)
District 14: David Gowan (R)
District 15: Heather Carter (R)
District 17: J.D. Mesnard (R)
District 18: Sean Bowie (D)
District 19: Lupe Contreras (D)
District 20: Paul Boyer (R), Douglas Ervin (D)
District 21: Rick Gray (R)
District 22: David Livingston (R)
District 24: Lela Alston (D)
District 25: Tyler Pace (R)
District 27: Rebecca Rios (D)
District 28: Kate Brophy McGee (R)
District 30: Otoniel "Tony" Navarrete (D)

District 1: Selina Bliss (R), Steven Sensmeier (R)
District 2: Daniel Hernandez Jr. (D)
District 3: Andrés Cano (D), Alma Hernandez (D)
District 5: Regina Cobb (R), Leo Biasiucci (R)
District 6: Walter Blackman (R), Art Babbott (I)
District 7: Arlando Teller (D), Myron Tsosie (D)
District 8: David Cook (R), Frank Pratt (R)
District 9: Randall Friese (D)
District 10: Domingo DeGrazia (D)
District 11: Mark Finchem (R), Bret Roberts (R)
District 13: Tim Dunn (R), Joanne Osborne (R)
District 14: Becky Nutt (R), Gail Griffin (R)
District 15: Jarret Hamstreet (R), Steve Kaiser(R)
District 16: Lisa Godzich (R)
District 17: Jeff Weninger (R), Jennifer Pawlik (D)
District 18: Jennifer Jermaine (D), Bob Robson (R)
District 19: Diego Espinoza (D), Lorenzo Sierra (D)
District 21: Kevin Payne (R), Kathy Knecht (D)
District 22: Ben Toma (R), Frank Carroll (R)
District 23: Jay Lawrence (R), John Kavanagh (R)
District 24: Jennifer Longdon (D), Amish Shah (D)
District 25: Michelle Udall (R)
District 26: Debbie Nez-Manuel (D), Marcus Sifuentes (R)
District 27: Reginald Bolding (D), Diego Rodriguez (D)
District 28: Aaron Lieberman (D)
District 29: César Chávez (D)
District 30: Robert Meza (D)
To stay current on politics and policies affecting the state's technology industry, visit the Technology Advocacy & Technology Public Policy page on the Arizona Technology Council's website at aztechcouncil.org/promoting-public-policy.
About the Arizona Technology Council
The Arizona Technology Council is Arizona's premier trade association for science and technology companies. Recognized as having a diverse professional business community, Council members work towards furthering the advancement of technology in Arizona through leadership, education, legislation and social action. The Council offers numerous events, educational forums and business conferences that bring together leaders, visionaries and community members to make an impact on the technology industry. These interactions contribute to the Council's culture of growing member businesses and transforming technology in Arizona. To become a member or to learn more about the Arizona Technology Council, please visit www.aztechcouncil.org.