Meet the Council's chief of staff: Laura De George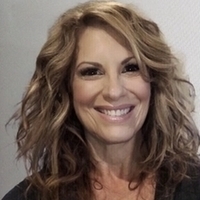 From overseeing the Council's three-year strategic plan to managing Steve Zylstra's schedule, Laura De George is a woman of many talents and great attention to detail. In this month's employee profile, we're interviewing Laura to learn more about her role, fascinating hobbies and love for learning.
Where are you originally from?
I am from Northbrook, IL, a suburb north of Chicago.
Where did you go to school and what did you study?
I would be a professional student if it paid the bills. I have degrees in culinary arts from Cordon Bleu Chicago campus, interior architecture and design from Harrington College of Design and applied business management from Grand Canyon University.
How did you start your career?
I started my career as a personal stylist /assistant, which led to becoming an executive assistant.
What was interesting to you about working for the Arizona Technology Council?
I like working for an organization that cares about the community and making a positive impact on people's lives.
How long have you worked for the Council?
I have worked for the Council for just over 4 ½ years.
What are some of your role's primary responsibilities?
My role usually falls under "performs other duties as assigned". It primarily entails managing administrative, financial and operational activities for the organization. At the moment, I am heading up and facilitating our three-year strategic plan.
What do you think is one of the Council's most impressive member perks?
There are so many. However, I think the Association Health Plan and Multiple Employer 401 (k) are our most impressive offerings because small businesses and startups can take advantage of these benefits.
What are some of your favorite hobbies?
Anything badass! I did some amateur boxing many years ago in the super flyweight class and studied Shidokan Karate martial arts. Motorcycles and karting are up there, too.
What is your favorite meal to cook?
I love cooking holiday meals. I believe in celebrating traditions with family and friends and the importance in keeping everyone together. I am partial to French cuisine, especially delicate sauces. I usually incorporate one classic dish into every menu.
What is one little-known fact about Laura De George?
It was 13 years ago this month that I donated a kidney to my mother. She was born with only one and developed kidney disease in her forties. I think I may have given her the better of my two. Doctors said transplanted kidneys typically last 8 – 10 years and she is still going strong.
---
Register for the Council's upcoming Phoenix and Tucson tech events and Optics Valley optics + photonics events.
---