Honeywell Aerospace providing component for B-52 bomber's upgrade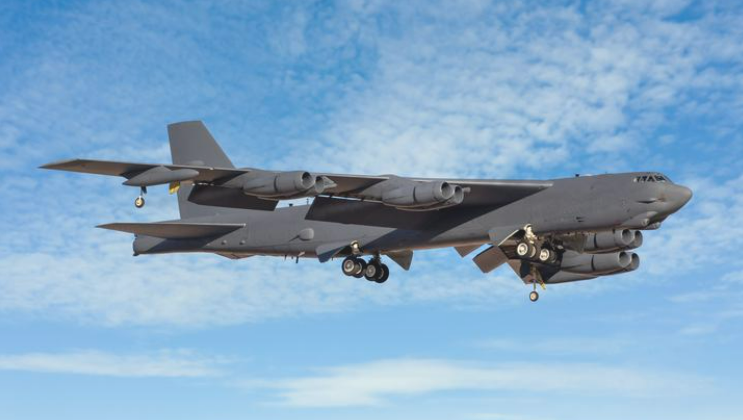 Honeywell's Phoenix-based aerospace division announced it has been selected by Boeing to provide a key component on the U.S. Air Force's long-range B-52 bomber as the aircraft is upgraded for a future generation.
The deal, which is part of the Commercial Engine Replacement Program, or CERP, calls for Honeywell (Nasdaq: HON) to provide its 36-150 auxiliary power unit (APU), which provides high-pressure air to start the aircraft's main jet engines before departure. Financial details of the project were not disclosed.
The iconic B-52 is undergoing an upgrade under a $2.6 billion CERP contract with Rolls-Royce North America to replace the bomber's aging Pratt & Whitney-made TF33 engines, according to a report earlier this year from National Defense. Each of the Air Force's 76 B-52's Stratofortress bombers will get eight new engines by 2038, the report said.
Honeywell said the new component enhances mission readiness and flexibility by allowing the upgraded B-52 to meet operational quick-start requirements without the use of ground support equipment.
"The B-52 is one of the most enduring USAF aircraft ensuring force readiness against emerging threats," said Dave Marinick, president, Engines and Power Systems, Honeywell Aerospace, in a statement. "We are confident that our proven 36-150 APU will exceed the expectations of the USAF throughout the CERP contract and subsequent B-52 active-duty squadron service that will last until at least 2050. Honeywell auxiliary power systems proudly serve on every generation of USAF long-range strike aircraft, and Honeywell looks forward to continuing to serve the USAF on the next phase of the B-52's operational life."
The company's 36-150 APU series is in use in more than 20 commercial and military applications already, with more than 10,000 of the units delivered, Honeywell said.
The B-52 version of the APU is equipped with the latest compressor technology first developed for commercial use, Honeywell said, and it has been modified somewhat to meet specific requirements for the bomber.
The same APU is also in use as part of Honeywell's collaboration in the Lockheed Martin Sikorsky-Boeing DEFIANT X helicopter program, which is in contention to be selected as the U.S. Army's Future Long Range Assault Aircraft, or FLRAA, which would replace the Black Hawk helicopter. Each of the new helicopters would employ two of the Honeywell HTS7500 turboshaft engines.
Work on the project could result in hundreds of new engineering and supply chain jobs in Arizona, with an estimated $6.6 billion impact on the state, Honeywell has said.
A decision from the Army in the FLRAA competition could come this month, according to recent reports.
---
Register for the Council's upcoming Phoenix and Tucson tech events and Optics Valley optics + photonics events.
---