Hertz to sell used rental cars through Carvana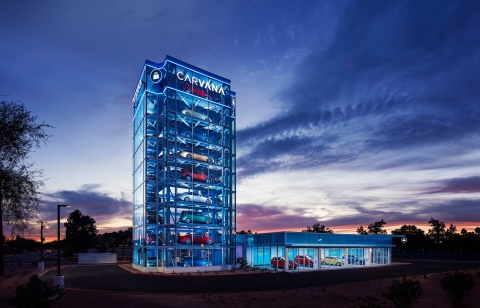 Tempe-based online used car retailer Carvana has teamed up with Hertz to be a key outlet to sell the national car rental company's used cars.
The partnership comes on the heels of other big partnership moves from Hertz, including the announcement that it would order 100,000 Tesla (Nasdaq: TSLA) electric vehicles and the announcement that it will supply 50,000 Teslas to Uber drivers.
For Carvana, it seemed to be welcome news on Wall Street. Shares of Carvana (NYSE: CVNA) stock got a quick jolt at the start of the trading day Wednesday, jumping more than $13 to surpass the $300 mark before settling back down to close with a modest 33-cent gain. Track the stock here.
The deal will give Hertz — which has sold its vehicles through auctions, direct-to-dealer-programs and its 68 Hertz Car Sales locations — a direct-to-consumer channel far with greater scope and efficiency than it has had before.
Carvana Founder and CEO Ernie Garcia said his company's technology and infrastructure will help Hertz to reach more customers.
"Carvana's technology and infrastructure enable this partnership to bring online car buying experiences to more customers," Garcia said in a statement. "Our nationwide first-party logistics network allows Hertz to expand its retail reach beyond its physical stores and into over 300 markets across the country."
Hertz, which emerged from bankruptcy in the summer, said the partnership helps reduce its reliance on wholesale disposition and is particularly important in its recent effort to transform its fleet and the rental car industry.
"Our new partnership with Carvana will help Hertz provide a tech-enabled and scalable channel through the lifecycle of our fleet," said Mark Fields, Hertz interim CEO, in a statement. "This is another step toward the new Hertz — combining our brand strength and global fleet expertise with new technology and innovations to chart a dynamic, new course for the future of travel, mobility and the auto industry."
The new deal comes after a pilot program between Hertz and Carvana in September.
In a report from Barron's, Wells Fargo analyst Zachary Fadem said that about 100,000 of Hertz's estimated fleet of 400,000 vehicles will be sold each year. He estimated that Carvana could make about $100 million in incremental gross profit each year, assuming half of those sales are sold and financed through Carvana.
"We view this morning's Carvana/Hertz announcement favorably," Fadem told Barron's.
Carvana recently announced it plans to build a restoration and storage yard on 150 acres it purchased near Loop 303 in Surprise for $25 million in September.
---
Visit www.aztechcouncil.org/tech-events to view all of the Council's upcoming virtual tech networking opportunities, engaging virtual tech events and in-person tech events.
---