GT Medical Technologies awarded the Arizona Bioscience Company of the Year for disrupting the status quo in brain tumor treatment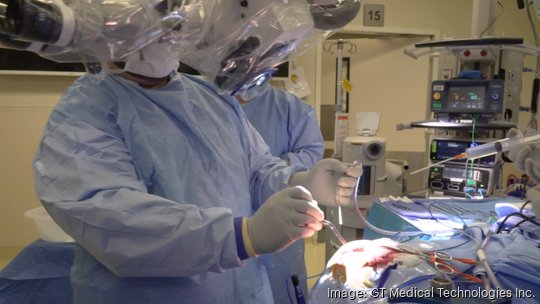 The Arizona Bioindustry Association, Inc. (AZBio) announced that GT Medical Technologies, Inc. (GT MedTech) will be honored as the Arizona Bioscience Company of the Year at the 2023 AZBio Awards and 20th Anniversary Celebration on Sept. 27 in Phoenix, Arizona.
Driven to improve the lives of patients with brain tumors, a group of brain tumor specialists and medical device experts joined forces to reimagine brain brachytherapy for operable glioblastomas (GBMs), meningiomas, and brain metastases. Their innovation is GammaTile Therapy®, the first medical device advancement for treating brain tumors in over a decade and one of only seven FDA-cleared/approved new treatments for treating these tumors in the past 50 years.
For patients with operable brain tumors, neurosurgeons seek a "maximal safe resection" of the tumor, which means they remove as much of the tumor as possible while preserving healthy brain tissue. However, resecting all the brain tissue that may harbor cancer cells is limited because of the location in the brain. Consequently, residual tumor cells remain following resection.
Compared to external beam radiation therapy (EBRT), GammaTile Therapy allows radiation to start immediately since it is inserted right after the tumor is removed. This Surgically Targeted Radiation Therapy (STaRT) is a one-and-done radiation treatment that allows patients to get back to their daily lives sooner.
About the size of postage stamps, GammaTiles are made of bioresorbable collagen. Each tile contains four radiation seeds, equal distance from one another. For maximum safety, GammaTiles are designed so that the radioactive seeds do not directly contact the brain tissue.
"We are honored to be named the Arizona Bioscience Company of the Year," stated GT MedTech CEO Matthew Likens. "This award recognizes how tirelessly our teams have worked to improve the current standard of care for patients with brain tumors. We are all committed to advancing treatment and preserving patients' quality of life."
"The Arizona Bioscience Company of the Year honor is awarded to the for-profit bioscience company whose Arizona-based operations have done the most to transform the world over the last 12 months," said AZBio President and CEO Joan Koerber-Walker. "Our independent judges unanimously agreed that GT Medical Technologies was the perfect choice. Thanks to the company's development and delivery of GammaTile technology, people facing a brain tumor diagnosis have more hope for a healthier future than ever before."
Since its initial FDA clearance in 2018 for recurrent brain tumors and subsequent FDA clearance in 2020 for newly diagnosed brain tumors, GammaTile Therapy has helped more than 1,000 patients.
About GT Medical Technologies, Inc. (GT MedTech)
Driven to raise the standard of care and improve the lives of patients with brain tumors, a team of brain tumor specialists formed GT Medical Technologies. FDA-cleared GammaTile Therapy is a Surgically Targeted Radiation Therapy (STaRT) for patients undergoing brain tumor removal surgery of newly diagnosed malignant and recurrent brain tumors. This "one-and-done" treatment eliminates the need for one to six weeks of daily external beam radiation therapy, allowing patients to go about their daily lives without the burden of additional trips to the hospital or clinic for ongoing treatment. Since its full market release in the United States in March 2020, GammaTile has been offered in more than 95 hospitals, with more centers being added each month. For more information, visit www.gtmedtech.com and follow @GammaTile on Twitter and LinkedIn.
About The Arizona Bioindustry Association, Inc. (AZBio)
For 20 years, the Arizona Bioindustry Association has supported life science innovation and life science innovators in Arizona. A key component in Arizona's life science ecosystem, AZBio is the only statewide organization exclusively focused on Arizona's bioscience and medical technology industry. AZBio membership includes patient advocacy organizations, life science innovators, educators, healthcare partners, and leading business organizations. AZBio and its members work to advance health innovation and to ensure that the value delivered by our community's life-changing and lifesaving innovations benefits people in Arizona and around the world. For more information on AZBio, visit www.AZBio.org. For more information on the AZBio Awards, visit www.AZBioAwards.com.
---
Register for the Council's upcoming Phoenix and Tucson tech events and Optics Valley optics + photonics events.
---