GateWay Community College maker space yields $36M economic impact, GPEC finds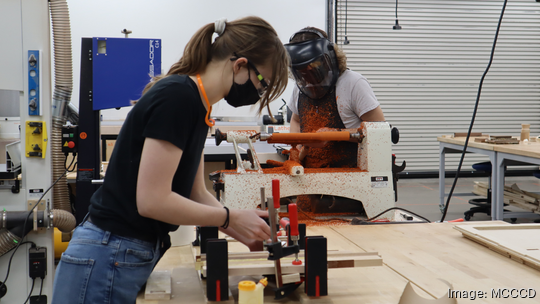 Phoenix Forge, the open-to-the-public maker space at GateWay Community College in Phoenix, is expected to produce $36 million in economic output, according to the Greater Phoenix Economic Council.
GPEC's regional impact analysis of the space also found that Phoenix Forge would generate an estimated $1.4 million in tax revenue and $16.5 million in personal income. The figures were announced this week by GateWay Community College, one of 10 schools in the Maricopa County Community College District.
The maker space is a 17,000-square-foot collaborative workspace open to member students, entrepreneurs, small business owners and hobbyist artisans who want to make use of large-scale equipment such as 2D and 3D printers; metal and woodworking tools; and equipment to make jewelry, electronics, textiles and more.
GateWay said the equipment can be used to make things such as prototype running shoes, flat-pack furniture, custom guitars and handmade furniture.
"We are thrilled about the potential regional economic value that Phoenix Forge will have on our local economy," said GateWay Community College President Amy Diaz, in a statement. "We believe this makerspace has huge potential to become a driving force behind innovation and entrepreneurship within our community."
Individuals become members for $75 a month, while businesses can pay $150 monthly for access for multiple people. Students, staff and faculty of Maricopa Community Colleges have free membership, as do some Arizona State University students and faculty members. Once in, members can access all areas and make online reservations. Phoenix Forge also offers classes on a rotating schedule for additional fees.
"With access to the state-of-the-art facility, hands-on classes, and twenty experienced staff members, Phoenix Forge is the perfect space for creativity and innovation," said Bruce Balfour, executive director of Phoenix Forge, in a statement. "By providing this comprehensive support, we aim to help local start-ups thrive, keep businesses within our community, and connect entrepreneurs to state-of-the-art technology to enable them to save money."
---
Register for the Council's upcoming Phoenix and Tucson tech events and Optics Valley optics + photonics events.
---