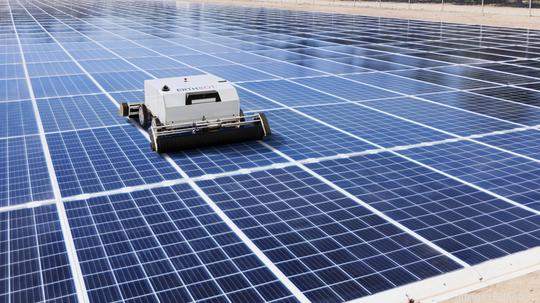 Reconfiguring the world's energy system to combat climate change is a complex problem, but a Tempe company has come up with a simple solution to produce cheap renewable energy — simply put the solar panels at ground level.
Erthos, a startup in Tempe, builds earth-mounted solar panels directly on the ground. This technique saves money, allows a cleaning robot to sweep the panels each night and ultimately yields cheaper power, the company said.
The company said this week that it raised $17.5 million in series B financing from Capricorn Investment Group, which previously invested in Tesla and SpaceX.
"Erthos has patented the lowest cost electricity in the world, period. That's a big deal," founder and CEO Jim Tyler told AZ Inno.
Today, there are two major types of solar installations: Fixed tilt and single axis tracker. Fixed tilt panels stay put, angled up toward the sky while the more advanced tracking panels follow the sun during its daily journey across the sky. The tracking modules are the most effective in absorbing energy, but they are also expensive and more difficult to maintain.
Tyler pointed to the Erthos panel's levelized cost of energy (LCOE), an all encompassing metric used to measure the cost of the power produced by solar, including construction, maintenance and cleaning costs. Tyler said Erthos arrays have a 20% lower LCOE than the most efficient tracking alternatives available today.
That reduced cost is due to quicker construction, smaller land requirements and fewer material inputs (like steel and cable) to bring an Erthos arrays online. The Erthos panels are also easier to clean and maintain, further reducing the cost of energy.
Since Erthos panels are flat, contiguous structures the company can deploy a robot that scoots along the surface to clean the panels and capture module health data as it goes. This type of automated cleaning and system monitoring is much too expensive for individual tracking panels.
Tyler said that many people assume that putting the panels on the ground immediately introduces problems, but he said they've had the opposite experience and that going to ground has actually opened new doors.
"The baseline patent of solar panels on the ground, that's part one," he said. "But there's literally dozens and dozens of additional follow-on patents that have come out as a result of putting the solar panels on the ground."
In addition to developing the technology, Erthos acts as the project architect for its customers and provides services after the installation.
Coming to life
Tyler came to the Valley in 2009 to work at First Solar, where he launched the Engineering, Procurement, and Construction (EPC) team, or the people that actually build the solar projects.
Tyler stayed at First Solar until 2013 when he and a group of other employees left to create Depcom, a solar EPC company in Scottsdale that grew to be one of the biggest in the world, eventually installing about 700 megawatts of capacity each year. Depcom was founded by Jim Lamon, who is now running to unseat Mark Kelly in the Senate. Depcom was acquired by Koch Industries last year.
Tyler left Depcom in 2019 and took some time to figure out what he wanted to do next. He said he had been pondering the possibility of building earth-mounted panels (usually on long bike rides) but he was also in the interview process to take an executive role at Nikola Corp.
He told his daughter, a high schooler at the time, about the two options and asked her what she thought he should do.
"She asked me a very simple question: 'Which one is going to have a bigger impact on the world?' She was a sophomore in high school when she asked that question. I said, 'Well, no doubt Erthos.' She said 'That's the one you should work on.'"
"So I have a personal goal to have a direct impact on the world on this problem," Tyler said. "And in order to do that, the company's technology needs to be deployed and adopted all over the world."
Tyler founded Erthos and got to work on patenting the earth-mounted panel in May 2019; The company raised $7.4 million series A financing in August 2020 and received its patent in November 2020. After working in stealth for nearly two years, the company announced its presence to the world last June.
The Erthos team now consists of 33 employees, including people with prior experience at Tesla, Intel, General Electric, Sterling & Wilson, Canadian Solar, SMA, and Solar Frontier. Part of the new funding, Tyler said, will be to increase the staff to at least 60 by the end of the year.
The company already has five projects underway in California, totaling three megawatts of capacity.
---
Register for the Council's upcoming Phoenix and Tucson tech events and Optics Valley optics + photonics events.
---