City adding 2 portable EV chargers for its fleet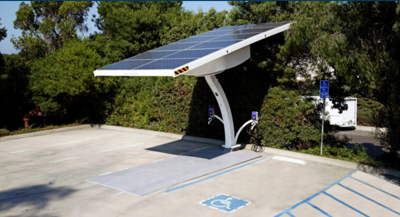 The City of Chandler is awaiting delivery of five new electric vehicles to join its fleet and it's likely more are on the way as the city looks forward. That means it needs the infrastructure for that future.
City Council approved spending up to $145,350 last week for two portable EV charging stations. The EV ARC 2020 Solar Powered charging stations are not hooked up  to any power lines. Instead, a solar panel tracks the movement of the sun and constantly charges the batteries.
That also means it can be moved relatively easily as needed from one location to the next. Still, the price tag wasn't sitting well with at least one council member.
"It just doesn't seem like the return on investment is very good for me," said Vice Mayor Terry Roe. "I know government pays too much for stuff, but this seems like just a huge amount."
Michael Hollingsworth, the city's facilities manager, said the cost for a permanent charging station powered by conventional means would have been $98,000. But it would have needed the proper infrastructure as well, and that cost would have been $30,000.
He said that's why they viewed the portable stations as a better option since they have a price tag under $75,000 each.
Currently, these stations are in use at the  Glendale Library and the Maricopa County fleet facility. It can charge two vehicles at a time, but at a slower rate. One vehicle can travel up to 25 miles for every hour it charges. That goes down to 12 miles for each hour of charging when two cars are hooked up.
It will take 24 hours of charging to reach full power.
Hollingsworth said the city has the five electric vehicles on order, but the international supply chain problems have delayed their delivery. He said the city has a total of about a dozen electric vehicles. There are currently charging stations in the City Hall garage, the Overstreet garage and a couple at AJ Chandler Park. 
He said that Arizona Public Service will also install a couple in its garage.
The portable units Council approved this week would be installed at the city Fleet Division Building at Armstrong Yard.
Council last week also adopted its nearly $1.35 billion operating budget and close to $1.7 billion capital improvement budget for the new fiscal year.
The city agreed to award nearly $119,000 to a fund controlled by the Downtown Chandler Community Partnership. The money comes from a special property tax that businesses in the downtown district pay to help promote their area.
The money is spent on staging special events and handling social media that promotes downtown.
The Council also approved spending about $675,000 for the maintenance of three software systems the city relies on: Land Management; GIS and Mobile Office. Accela's software manages the city's permitting and inspections, installations of water meters, and impact fees.
The agreement covers three years, averaging at close to $225,000 annually.
It was just one of a number of support and maintenance contracts the Council approved. Those contracts usually renew on July 1.
Council also approved spending about $72,000 for a walk-in freezer and its installation for the Police Department to store property and evidence. The current evidence freezer is nearing capacity.
---
Register for the Council's upcoming Phoenix and Tucson tech events and Optics Valley optics + photonics events.
---