CES 2022: The Wizarding World of Tech Innovation
With my rapid test and N95 in hand (on face, rather), I called a cab and began the journey to the Las Vegas Convention Center for CES 2022—the Consumer Electronics Show.
While the overlying themes of CES have remained consistent for the last few years (AI, IoT, wearable tech, robots, etc.), this year's show presented a handful of nuances to the current narrative. 
Esports
Gaming has always been prevalent at CES, with PCs and accessories taking center stage. This year, Esports, which has always lingered in the curtains, stepped into the spotlight. Gamers who had built their career on streams and influencer activities were replaced by professional competitors livestreaming and playing on the show floor. It was very apparent at this year's show that Esports has long since crossed the line from hobby to a professional, global industry.
Clean Technology
Technology focused on preserving our planet isn't new to the floor, or anyone. This year presented a lot of technology focused very specifically on bringing "carbon zero" into our daily lives and into the hands of consumers. What started in manufacturing and transportation logistics, has made its way down to your daily cup of coffee. While the purchasing power has always been with the consumers, and they've always had the opportunity to choose companies with carbon zero practices, the technology featured on the floor presented carbon zero opportunities in places a purchasing decision isn't being made—the office coffee machine, for example. Most of us aren't the one making the decision about which coffee is in the breakroom, and the emergence of these daily technologies will leave us feeling more empowered to change the future for our planet.
Health Technology
There was more wellness and health-related technology than I've ever seen before at this year's show… and almost none of it had anything to do with COVID-19. Wearables and water trackers have been around for years, but this year's show introduced a line of products that previously just existed as "smart" items but are now "smart specifically to monitor your health". It opens new possibilities to monitor your health with more items in your daily life. For example, a baby bassinet. While a smart bassinet previously featured in-app sound and light control, it now includes a mattress that tracks and reports your baby's movements, sleep, and even breathing patterns. Each year we become more capable of hacking the human body.
AI & IoT
Artificial Intelligence and the Internet of Things are also not new arrivals to CES, but this year almost 100% of IoT devices I saw had an AI component. At UAT, we've long understood (and have been teaching) the relationship between the two, but the crossover has finally reached the mainstream. Prepare for all your smart devices to start learning from each other and their environment… and for real-life Wizard's Chess!
Metaverse
The metaverse has made its debut at CES. Not prevalent yet, but it emerged in mostly social form at top-name booths. We'll see if it becomes a permanent resident.
I left CES feeling inspired, hopeful and as always, entertained. The groundwork has been laid for what's to come in 2022 and beyond, and we can't wait to bring it to you at UAT.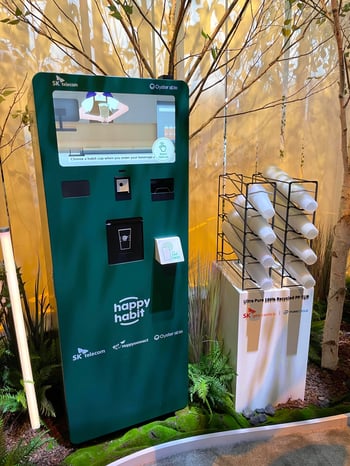 ---
Register for the Council's upcoming Phoenix and Tucson tech events and Optics Valley optics + photonics events.
---