ASU's Luminosity Lab secures $15 million donation from tech CEO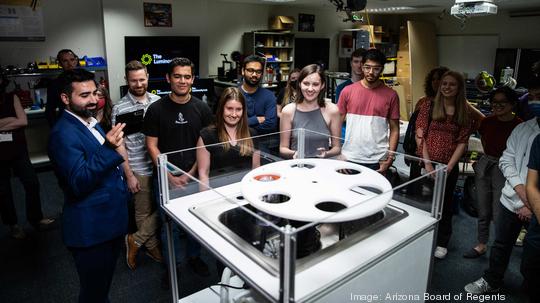 The Luminosity Lab, a research and development program at Arizona State University, recently secured a $15 million donation to fund scholarships for students of all backgrounds who are interested in creative problem solving.
Mark Naufel, executive director of the Luminosity Lab, described the lab as a student-led "skunk works" environment, with autonomy to work on projects and find solutions in creative ways. 
The lab conducts corporate-sponsored research projects, previously working with Starbucks, NASA, the Greater Phoenix Economic Council and others. Student teams have worked on drones, software design, autonomous vehicle technologies and other projects.
The funding for these new scholarships came from Marty Vanderploeg, the CEO of Workiva. Ames, Iowa-based Workiva (NYSE: WK) was one of the lab's first corporate partners. The company also has an office at ASU's SkySong and ASU President Michael Crow sits on the company's board.
"The Luminosity Lab represents a remarkable opportunity for young adults to develop skills that are crucial to tackling this century's major challenges," Vanderploeg said in a statement. "So I'm excited to support the participation of more gifted students from a wider set of life circumstances. Adding their perspectives and insights will foster even brighter outcomes."
The first batch of $5,000 scholarships in the Vanderploeg Luminosity Scholars Program will be awarded to a group of 20 undergraduate students this fall. 
These students were selected for both their bright minds and their financial need; With scholarship money in hand, these students can spend more time at the Luminosity Lab working on projects that engage their minds.
Naufel, the lab's director, is a Tempe native and ASU grad who was picked by Crow to launch the Luminosity Lab back in 2016. The lab is part of the Ira A. Fulton Schools of Engineering, which turns out thousands of new engineers each year. 
Getting more students involved
Naufel said that, to date, most of the students in the lab have been upperclassmen or graduate students. This scholarship will help get more young students involved by giving them financial breathing room.
"The true inspiration for this scholarship was to be able to give the students a financial incentive that would allow them to work less or not work outside of the institution, and instead, spend a little bit of time learning the process of R&D," he said.
These first 20 recipients will have the opportunity to renew their funding next year and continue their work in the lab. Naufel said they plan on having between 20 and 30 Vanderploeg scholars each year, but they want to keep the lab small enough so there is a sense of community.
In addition to paid work on corporate projects in the lab, students can use the lab's resources on their own projects. 
In late 2020 a five-member student team won $500,000 from the XPRIZE Foundation for a fogless mask design and earlier this year a pair of undergraduates won the Red Bull Basement global innovation challenge with their note-taking software; both teams designed their projects in the Luminosity Lab.
---
Register for the Council's upcoming Phoenix and Tucson tech events and Optics Valley optics + photonics events.
---