Arizona universities' online programs get high marks in new rankings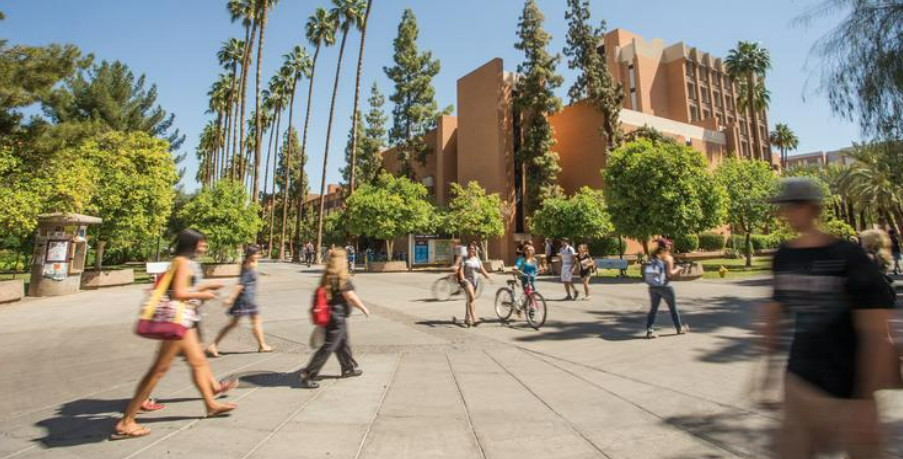 Online degree programs at Arizona universities are among the best in the nation, according to the latest survey from U.S. News & World Report.
Arizona State University and the University of Arizona each ranked in the top 10 for multiple programs — including their business and MBA programs — in the U.S. News 2022 Best Online Programs Rankings.
ASU ranked No. 6 overall for its online bachelor's programs, and part of what elevated it on that list was that it was rated as having the No. 1 online business bachelor's program and the No. 6 psychology program (tied with University of Central Florida).
UArizona was part of a three-way tie to rank No. 7 for online bachelor's programs, with its business program coming in at No. 8 in the country as part of a five-way tie.
For MBA programs, both ASU and UArizona tied at No. 7 in the overall rankings. ASU also tied for No. 7 for its non-MBA online business master's program, which includes accounting, finance, insurance, marketing and management.
Other high placements for the two schools included No. 5 for UArizona's online master's in information technology, No. 7 for ASU's online master's in criminal justice, No. 8 for ASU's online education master's and No. 12 for ASU's online engineering master's.
Northern Arizona University in Flagstaff also appeared in the rankings, tied at No. 59 for its online bachelor's programs. NAU's online business bachelor's program came in at No. 51, and its online business master's program ranked No. 87.
Rankings were based on student engagement, services and technologies available to students, faculty credentials and training, and expert opinion on the academic quality of the programs, U.S. News said. Master's programs were also ranked based on student excellence.
The rankings include more than 1,700 programs, which is slightly higher than last year, but the number of business programs this year jumped from 145 to 228, U.S. News said. Only programs that were designed to be online were considered, meaning those that are temporarily online because of the Covid-19 pandemic were not included. Blended online and in-person programs were also not considered.
Factors driving online programs
The pandemic, however, could be a factor driving more students to consider online programs, U.S. News said.
"The uncertainty caused by the pandemic may result in more people considering the merits of an online education," said Liana Loewus, managing editor of education at U.S. News, in a statement.
But other factors, such as affordability and flexibility, are also at play. Even before the coronavirus emerged, about 37% of postsecondary students in the U.S. were enrolled in distance education courses, according to National Center for Education Statistics figures that were included in the U.S. News report.
The magazine also ranked online programs for veterans, placing Arizona State at No. 3 and UArizona up one spot from a year earlier at No. 4 on the bachelor's program list. To be considered for the veterans list, schools had to meet certain criteria to reduce costs for veterans. NAU came in at No. 38 for veteran bachelor's degrees.
Overall winners for bachelor's programs were Embry-Riddle Aeronautical University-Worldwide and the University of Florida. MBA programs were led by Indiana University-Bloomington, University of North Carolina-Chapel Hill and the University of Southern California. Non-MBA business master's programs were led by Indiana University-Bloomington and USC.
---
Register for the Council's upcoming Phoenix and Tucson tech events and Optics Valley optics + photonics events.
---