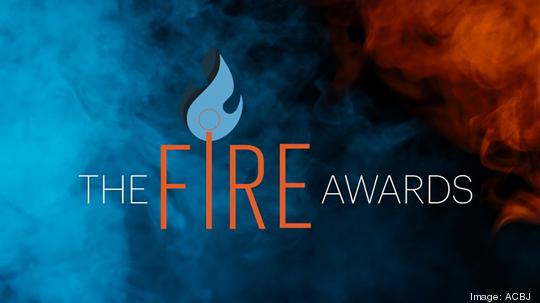 The Arizona startup scene is coming into its own, with more fledgling businesses attracting outside capital, while fast-growing young businesses and solo entrepreneurs alike are relocating to the state in droves from the West Coast and other locales.
AZ Inno, the state's main news source for information on the startup community, is proud to unveil the list of finalists for the inaugural 2022 Inno on Fire awards, honoring some of the fastest-growing, innovative and impactful startup companies in Arizona. The Inno on Fire awards are AZ Inno's premier recognition program, honoring the companies and people setting the local innovation economy ablaze.
The awards event, sponsored by Blue Cross Blue Shield Arizona, is set for 5 p.m., Thursday, June 30 at Papago Golf Club, 5595 E. Karsten Way, Phoenix. Get tickets here.
After combing through the nominations for the 2022 Inno on Fire awards, we have narrowed the field to a group of finalists in four award categories. Nominees submitted key information about milestones achieved in the past 12 months, funding rounds, as well as market share data, employee growth and future plans for expansion, among other data points to be considered in picking the finalists.
Besides the four category finalists being considered, a highlight of the event will be the presentation of the inaugural AZ Inno Blazer Award to an Arizona entrepreneur and startup founder who not only has achieved a fast-track growth trajectory for their own business, but is a key pillar of the state's startup community who makes a point of giving back to the community.
The 2022 Blazer Award winner is Gregg Scoresby, who founded Chandler-based education technology company CampusLogic, an education technology almost 11 years ago, overseeing its growth into one of the nation's premier edtech companies, focusing on simplifying financing options for college students.
In January, CampusLogic announced that it would be acquired by Reston, Virginia-based Ellucian, one of the largest edtech companies in the country. In the wake of that deal, Scoresby is refocusing his efforts to help stimulate the growth of Arizona's startup sector as a mentor, adviser and investor.
All finalists are listed in alphabetical order.
 Software
GitKraken
Journeyage
Moov
OpenForce
Qwick
Health Care/Biotech
Centauri
Humabiologics
SaiOx
Vita Touch
 Female founders
Jenny Poon – HUUB
Hannah Eherenfeldt – Resuture
Scarlett Spring – Taproot Interventions
Shruti Gurudanti – Televeda
Heidi Jannenga – WebPT
Michelle Tinsley – Yellowbird
Inno Picks
Based on the information received from nominees, these companies stood out as fiery examples of startups that are setting the stage for a fast-track future:
Crow Industries
Emerge
Footprint
Neighbor
Neon Screens
---
Register for the Council's upcoming Phoenix and Tucson tech events and Optics Valley optics + photonics events.
---