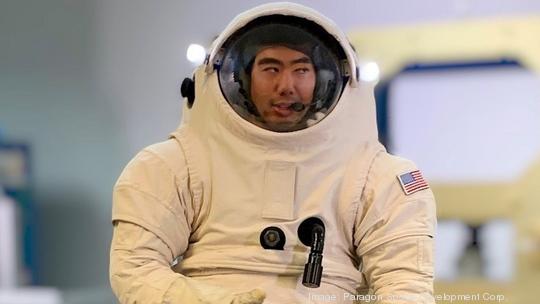 An Arizona space technology company is part of the team working to develop a next-generation spacesuit to be used by NASA astronauts and others.
Paragon Space Development Corp., based in Tucson, recently announced that it and Houston-based Axiom Space Inc. have been jointly awarded a 10-year contract potentially worth $3.5 billion to develop spacesuits that will allow astronauts to explore the moon's surface and expand their spacewalk capabilities at the International Space Station.
The NASA contract is part of the agency's Exploration Extravehicular Activity (xEVAS) program.
The spacesuits could be used in NASA's planned Artemis missions, and the project is considered critical for establishing a long-term presence on the moon and future explorations of Mars.
Paragon said it is well-positioned for the work ahead thanks to advances it has made in designing and developing life support and thermal control systems for extreme environments.
Paragon acquires spacesuit supplier
The company also earlier this year acquired a leading spacesuit and space component supplier, Final Frontier Design. At the time, Paragon officials hailed Final Frontier's newest garment system — which was about half the mass of the system currently in use by NASA — calling it a "technological game-changer."
"With the new capabilities we have acquired – and over a quarter-century of knowledge, design expertise, and operational experience – we at Paragon are highly confident that our contributions to the Axiom team and to NASA on this program will produce the most outstanding spacesuit for NASA," Paragon President and CEO Grant Anderson said in a statement.
Paragon Board Chairman Ron Sable added that the contract is a major accomplishment for the Arizona company, which has worked on several key NASA projects over the course of its nearly three-decade history.
"This further demonstrates that Paragon is a major partner in the Moon/Mars expeditions on the horizon for the U.S. space program." Sable said in a statement.
Axiom Space is currently working to build the first commercial space station, and the spacesuits will also be used by Axiom's commercial customers as well as private astronauts, the companies said.
Axiom's xEVAS Program Manager Mark Greeley said the two companies form a high-caliber team for a project that has major implications for the future of space exploration.
"The xEVAS spacesuits contract not only makes inspiring human spaceflight endeavors possible with added capabilities, it expands opportunities for the commercial space industry to grow and achieve greater accomplishments for more of humanity," Greeley said in a statement.
Much of the work will be done at Paragon's facilities in Houston, where the company said it is currently expanding its capabilities.
---
Register for the Council's upcoming Phoenix and Tucson tech events and Optics Valley optics + photonics events.
---