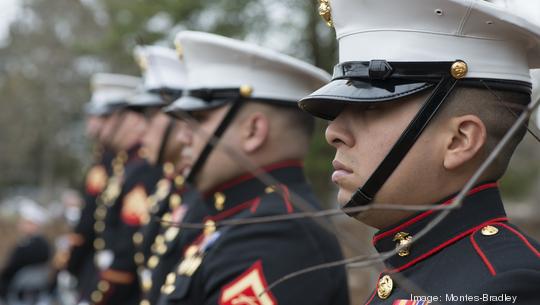 With a two-year, $3.89 million grant from the U.S. Navy, Tucson-based laser and optical technology company Applied Energetics Inc. will be working on an optical defense system to be used by the U.S. Marines.
The grant comes from the Navy's Office of Naval Research (ONR) and will accelerate already ongoing research by Applied Energetics' (OTCQB: AERG) aimed at developing and testing infrared technology as part of an ultrashort pulse laser system — with an aim toward making the technology capable of withstanding harsh conditions that Marines encounter in the field.
"We are very excited about the opportunity to partner with the USMC and ONR to develop and integrate our directed energy technology," said Greg Quarles, president and CEO of Applied Energetics, in a statement. "Our ultrashort pulse laser technology is expected to complement existing optical technologies, enabling the USMC to continue to mature its layered air defense capabilities."
The company said it has been working for a while to develop the directed energy technology to give the military a technical advantage, and said the grant award demonstrates its commitment to that mission.
Applied Energetics works out of the University of Arizona Technology Park in south Tucson, where it develops systems not only for defense clients but also for aerospace, industrial and scientific customers. The company says it holds all crucial intellectual property rights to the development and use of laser guided energy and related technologies.
News of the grant, which was awarded on June 1, gave the company's stock an immediate bump. Share prices were trading at $2 last week after remaining more or less steady since the start of the year. On Tuesday, the price was above $3. Track the stock here.
---
Register for the Council's upcoming Phoenix and Tucson tech events and Optics Valley optics + photonics events.
---