April 2022 TechCast | How to Hire Technology Talent More Inclusively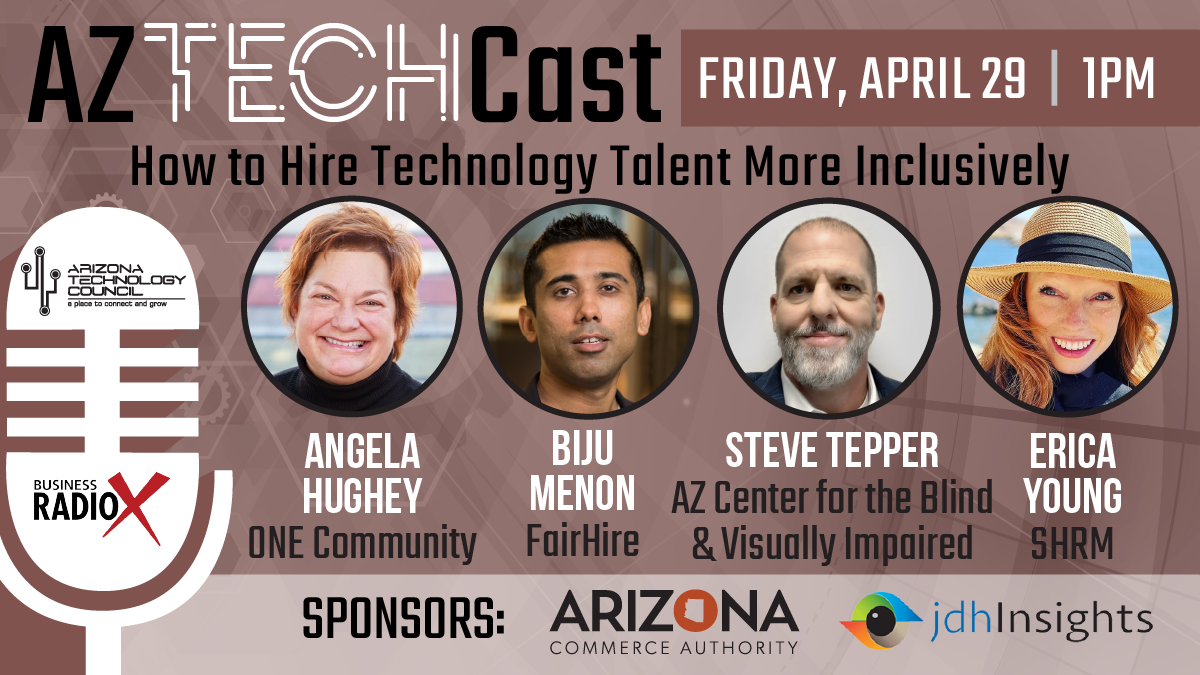 Subscribe to AZTechCast today so you never miss an episode.
Arizona's technology ecosystem can only become more vibrant by attracting and retaining diverse technology talent. In fact, by emphasizing Diversity, Equity and Inclusion (DEI) throughout their hiring process, Arizona businesses can solidify Arizona's role as a more innovative and vibrant economic powerhouse that sets a precedent regionally, nationally and globally.
The April 2022 episode of the Arizona Technology Council's AZTechCast podcast featured e-commerce experts including Angela Hughey, president, ONE Community; Biju Menon, CEO, FairHire; Steve Tepper, executive director, Arizona Center for the Blind & Visually Impaired (ACBVI) and Erica Young, enterprise solutions architect, SHRM. These leaders joined Karen Nowicki, president and owner of Phoenix Business RadioX, and Bianca Buliga, director of marketing + communications at the Council, in exploring technology's role in discussing how to hire technology talent more intentionally and inclusively to further propel Arizona's technology revolution.
Throughout this hour-long episode, this panel of experts defined what inclusive hiring means to them and to the organizations they represent. Erica began the discussion by suggesting that hiring needs to be re-evaluated from the HR perspective. Rather than creating job applications that are meant to weed out applicants based on their education level or years of experience, she encouraged HR departments to intentionally design applicants that "weave in" applicants that may traditionally be overlooked. She suggested that many organizations are immediately disqualifying applicants that could provide immense value just because their applications may seem lacking on paper.
In his two years at ACBVI, Steve described the uphill battle that many blind or visually-impaired people face when looking for employment. Rather than recognizing the numerous abilities and skills that blind and visually-impaired folks possess, many organizations completely discount these individuals during the hiring process. Steve stressed the important role that assistive technologies play in supporting folks who happen to be blind or visually impaired. From screen readers to text-to-speech systems, there are a wide variety of assistive technologies that companies have an obligation to explore and integrate within their workflows to access this underrepresented segment of technology talent.
When it came to technology's role in inclusive hiring practices, Biju had plenty to contribute. As the CEO of FairHire, Biju has been working closely with the Arizona Technology Council to deploy an Arizona-specific platform called InclusionAZ that works to remove bias from the hiring process. He mentioned that artificial intelligence and behavioral science can help to prioritize equity and make hiring decisions based on merit rather than an applicant's identifying characteristics like name, gender identity or sexual orientation. While HR departments have good intentions, there is an innate human tendency to hire those who seem familiar or similar to us, which can limit a team's diversity and inclusiveness.
For years now, Angela has worked to make Arizona a more inclusive state to work and thrive in. In February 2013, ONE Community launched the UNITY Pledge, which convened Arizona businesses to advance workplace equality and equal treatment in housing and public accommodations for LGBTQ individuals and their allies. During the conversation, Angela emphasized that Arizona has not yet outlawed discriminatory hiring practices, which is limiting the state's growth and preventing LGBTQ technology talent from considering relocation to Arizona for their career development. Her ultimate goal is to create an Arizona that truly celebrates, respects and protects all Arizonans.
While each speaker represented a very different perspective, they all agreed that inclusive hiring must be conducted with a holistic lens. Businesses should not focus just on hiring inclusively, but creating cultures that make each team member feel valued so that technology talent is retained in the long run. With more diverse voices at the table, Arizona's economy can continue to grow and attract qualified technology talent from all walks of life.
ANGELA HUGHEY
President and Co-Founder, ONE Community

BIJU MENON
CEO, FairHire

STEVE TEPPER
Executive Director, Arizona Center for the Blind & Visually Impaired (ACBVI)

ERICA YOUNG
Enterprise Solutions Architect, SHRM
About AZTechCast
The official podcast of the Arizona Technology Council, AZTechCast is dedicated to covering innovation and technology in Arizona and beyond. Through the art of the connected conversation, AZ TechCast's hosts and guests share success stories, tech news and analysis about the region's leading startups, companies and emerging technologies, as well as the latest industry trends and critical issues propelling Arizona's growing technology ecosystem. Visit www.aztechcouncil.org/techcast to learn more or to listen to recent episodes.
About Phoenix Business RadioX
Karen Nowicki is the owner and president of Phoenix Business RadioX. Amplifying the voice of business, Phoenix Business RadioX helps local businesses and professional associations get the word out about the important work they're doing to serve their market, profession and community. A successful author, speaker and the creator of Deep Impact Leadership™ and SoulMarks Coaching™, Nowicki is a two-time recipient of the prestigious national Choice Award® for her book and personal development retreat. In addition, Nowicki has been an expert guest on regional TV and radio shows, including Fox Phoenix Morning Show, Sonoran Living, Good Morning Arizona, The Chat Room and Mid-Day Arizona. Recognized for her leadership and business acumen, she has been a regular contributor to many print and online magazines – publishing articles and blogs for business and education.
---
Register for the Council's upcoming Phoenix and Tucson tech events and Optics Valley optics + photonics events.
---