Apple to buy chips from Arizona semiconductor plant, report says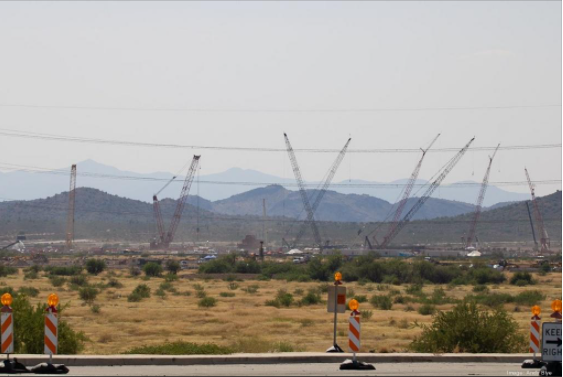 Apple Inc. plans to buy chips from an Arizona semiconductor plant that expects to begin operations in 2024, Bloomberg News reported. 
Tim Cook, CEO of the tech giant, seemed to refer to the Taiwan Semiconductor Manufacturing Co. fab that's under construction in north Phoenix when he made the remarks during internal meetings in Germany, Bloomberg reported.
"We've already made a decision to be buying out of a plant in Arizona, and this plant in Arizona starts up in '24, so we've got about two years ahead of us on that one, maybe a little less," Cook said to employees, which included Apple executives, the news agency reported. "And in Europe, I'm sure that we will also source from Europe as those plans become more apparent."
TSMC, which is scheduled to start mass production in Phoenix in 2024, is Apple's exclusive chip-manufacturing partner from its plants in Taiwan, Bloomberg reported. Though, Apple has contracted with Intel Corp. — which is expanding its Chandler fabs — in the past, the report stated that a new deal is unlikely.
From its plants in Taiwan, TSMC is already the world's largest contract chipmaker.
The Phoenix fab is set to produce 5-nanometer chips. It is also gearing up to produce more advanced 4-nanometer chips, the Wall Street Journal reported.
Bloomberg reported that it's unclear if the Phoenix fabs would meet Apple's future need of more advanced, 3-nanometer chips. 
TSMC looking to build second fab in Phoenix
The Business Journal reported last year that TSMC's first phase, which was announced in late 2020, will be worth $12 billion, and that the final investment in the facility, now under construction, will be even larger, potentially worth about $35 billion. The first phase of that fab is the largest foreign direct investment in the state's history.
In a statement to the Business Journal, TSMC confirmed that it is now constructing a building to serve as a second fab at its Arizona site, leveraging resources from construction of its first fab for greater cost effectiveness.
"This building enables us to remain flexible for future expansion, but we have not arrived on a final decision on a second fab. In light of the strong customer demand we are seeing in TSMC's advanced technology, we will consider adding more capacity in Arizona with a second fab based on operating efficiency and cost economic considerations," a spokesperson for TSMC said in an emailed response.
Focus Taiwan reported this month that TSMC plans to hold its first tool-in ceremony in December at the Phoenix fab, this marks the arrival of the first batch of production equipment in the plant.
The chipmaker invited President Joe Biden and House Speaker Nancy Pelosi to attend the ceremony, the report stated, though it is unclear whether they will attend. 
Earlier this month, the state of Arizona announced it would allocate $100 million in federal funds it was awarded to boosting the state's semiconductor industry and after the CHIPS and Science Act was signed into law in August.
---
Register for the Council's upcoming Phoenix and Tucson tech events and Optics Valley optics + photonics events.
---