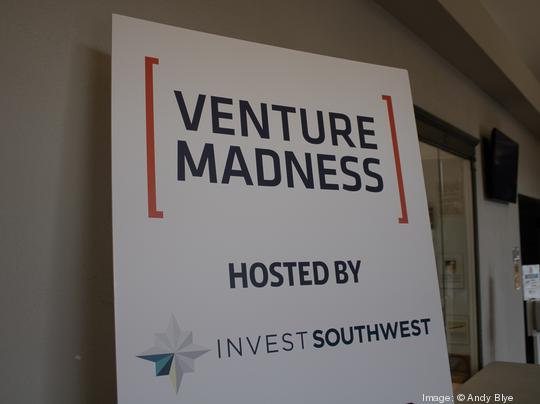 Venture Madness, the largest and longest running pitch contest in the Valley, has announced the names of 16 companies that will present at the event in March.
Invest Southwest, the nonprofit organization that hosts Venture Madness, said on Thursday that it had received 95 applications and chosen 16 companies to present in four different categories this year. One of the 16 companies chosen is based in Calfornia and the rest are based in Arizona.
2022 marks 30 years since Venture Madness started and this year's contest will be held on March 2-3 at the Kimpton Hotel Palomar in Downtown Phoenix.
Venture Madness 2021 wrapped up in October, but after a short turnaround the event is returning to its usual springtime date; The Covid-19 pandemic disrupted the schedule last year.
These 16 companies will receive coaching about their business plans ahead of the March event where they will have a few minutes to pitch to judges in front of an audience. Winners in each category will receive an undisclosed amount of cash as a prize; Last year winners won $10,000 each.
Andy Lombard, executive vice president of innovation and venture development at the Arizona Commerce Authority, is serving as the chair of Invest Southwest in 2022.
"This year, we received a fantastic batch of entries that I'm confident will make for an exciting event and a truly memorable 30th-year celebration," he said in a statement. "Just as exciting is the addition of our new Expo where finalists and other early-stage companies receive one-on-one, dedicated time to showcase their company, products and services with attending investors, business leaders, mentors and other attendees. It's often in those individual conversations where the most fruitful relationships are born. We're ready to let the madness begin!"
Last year many of the Valley's leading investors — including Arizona Tech Investors, Canyon Angels, Cypress Growth Capital, Desert Angels, Fulcrum Equity Partners, Grayhawk Capital, Kickstart Fund, Lighter Capital, Sonoran Founders Fund, State 48 Ventures, Silicon Valley Bank, Stout Street Capital and Trinity Capital — attended Venture Madness.
Here is the list of the companies that will pitch this year:
Consumer / Business
Frites Street, Scottsdale
My First Nest Egg, Phoenix
Navi Nurses, Phoenix
Neon Screens, Gilbert
Medical
Advi Now, Scottsdale
BlueSkies.AI, Scottsdale
Metfora, Tucson
TapRoot Interventions & Solutions Inc., Phoenix
Software-as-a-Service (SaaS)
Botco.ai, Inc., Scottsdale
Nymbl Systems, Phoenix
Peerlogic, Scottsdale
Terkel, Scottsdale
Tech
AlgoFace, Carefree
EnKoat, Phoenix
Gnosis IQ, Chandler
PWR Lab, Inc., Aptos, California
---
Visit www.aztechcouncil.org/tech-events to view all of the Council's upcoming virtual tech networking opportunities, engaging virtual tech events and in-person tech events.
---