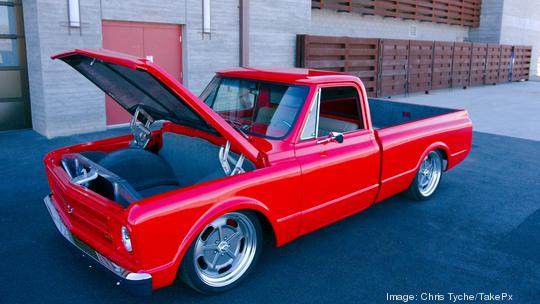 As the world grapples with climate change, some car lovers are swapping internal combustion engines for electric motors with the help of Legacy EV, a Tempe company that makes EV conversion kits.
Legacy EV operates as a parts distributor and integrator, pulling together components made by other manufacturers into different kits and then selling them to its customers, mainly auto shops. The kits range from $17,800 on the low end, up to more than $66,000 for higher performance packages.
Legacy primarily works with automotive outfits that restore and modify cars as well as those doing full vehicle fleet conversions. Legacy EV conversions can take between four and 16 weeks, depending on the complexity of the build. 
Mavrick Knoles, co-founder and president of Legacy EV, said the company is like a bridge connecting parts makers to the auto shops.
"Right now, when you want to buy an EV power plant, you would have to go through probably 15 to 20 different manufacturers just to get one working power plant that makes the wheel spin on a vehicle," Knoles said. "We've developed relationships with about 60 different manufacturers in the space and we integrate all their components into a working EV power plant."
Legacy aims to make it easier for auto shops to get into the conversion practice by eliminating that complicated hunt for various parts. One Legacy supplier is Tesla, which provides batteries for many of the company's kits.
Providing education
Another way Legacy boosts adoption is through education; Electric vehicles have been on the road for decades now, but many mechanics are still unfamiliar with how to repair them. 
Knoles said early on he noticed an education gap in the auto world that Legacy could help fill. The company now has a certified technician program where people learn how to properly install one of their conversion kits. He said there are two shops in the Valley working on their certifications now.
Knoles, 27, and Rob Ward, 39, founded the company in 2019, but they've known each other for more than 15 years. The pair grew up in Washington, and Knoles is now married to Ward's younger sister.
Knoles moved to Phoenix during his time with Teach for America and Ward followed suit with his family. Knoles now splits time between Washington and Arizona, but the company's R&D, validation and warehousing operations happen in Tempe.
The company has seven full-time employees and a handful of other contractors on staff. Legacy has also raised some outside funding to fuel the operation, including $2.7 million, according to a filing made with the Securities and Exchange Commission.
Legacy has also sent two of its vehicles across the block at Barrett-Jackson in Scottsdale, specifically a 1965 Volkswagen Bug and a 1971 Chevy C10.
---
Register for the Council's upcoming Phoenix and Tucson tech events and Optics Valley optics + photonics events.
---