UArizona named one of the nation's top 'green colleges'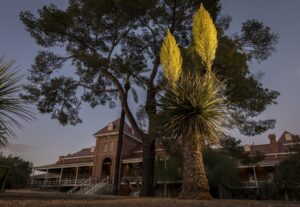 The University of Arizona has been recognized as one of the most environmentally conscious schools in the nation in The Princeton Review's 2024 Guide to Green Colleges.
At No. 50, it is the first time UArizona has been included among the Top 50 Green Colleges, which recognizes schools that "make the most exceptional commitments to sustainability from academics and career prep to campus clubs and initiatives."
"The University of Arizona has long been committed to not only advancing science-based solutions to environmental challenges, but fostering a campus environment in which sustainability is part of everything we do," said University of Arizona President Robert C. Robbins. "Being ranked among the top 50 green colleges in our nation by The Princeton Review is a testament to the hard work and dedication of our staff, faculty and students in ensuring a more sustainable and climate-conscious future for everyone."
The guide is an annual online resource published by The Princeton Review, an educational services company that provides tutoring, test preparation and college admissions assistance. The company calculates rankings based on data collected from administrators at 683 schools in the country. That data is combined with student opinions obtained from surveys.
In measuring a school's performance, The Princeton Review evaluates a healthy and sustainable campus quality of life, the environmental considerations of school policy and how well an institution prepares students "for employment in the clean-energy economy of the 21st century."
Among Research I institutions, UArizona is No. 17.
"For the University of Arizona to be included as one of the top 50 'green colleges' is a really incredible reflection of how far we've come in such a short period of time," said Trevor Ledbetter, director of the Office of Sustainability. "We work to advance institutional solutions that improve the sustainability of everything that we do, whether that be in teaching, operations or research. And we do so in a way that keeps students at the center and focuses on all three pillars of sustainability: the environmental, social and economic aspects."
Ledbetter said UArizona has a variety of programs and initiatives aimed at reducing waste, developing sustainable energy resources and fostering communitywide interest in climate-conscious solutions to modern problems:
The Compost Cats program works closely with the city of Tucson to provide food and organic waste composting throughout the region. Compost Cats operates a residential composting program called the Bucket Program, in which campus and community members can collect food scraps at home in a bucket provided by Compost Cats. Compost Cats also operates a commercial composting program with the city of Tucson called the FoodCycle program. Food scraps from both programs are composted and donated to local parks and schools. In the last 10 years, the Compost Cats program has diverted more than 20 million pounds of food waste from landfills.
Alongside Robbins, the Office of Sustainability led the way in entering into an agreement with Tucson Electric Power to source 100% of the university's purchased electricity from renewable resources for 20 years. The agreement came into full effect in May 2021, and reduced UArizona's greenhouse gas emissions by nearly one-third.
The Campus Sustainability Fund offers grant funding up to $100,000 for projects focusing on waste reduction, energy use, social justice and other efforts "that meaningfully advance environmental and social sustainability on campus."
UArizona is also developing a campuswide Sustainability and Climate Action Plan that Ledbetter said will be a "road map to how we reach climate neutrality as an institution by 2040." The plan also will set goals related to improving water conservation, reducing waste and "shifting the culture of campus to thinking about sustainability and climate action differently," he said.
Completion of the action plan will coincide with the creation of a permanent climate and energy sustainability committee to oversee the implementation of initiatives and provide oversight.
"We still have so much more work to do, and a lot of that is coming through in our Sustainability and Climate Action Plan," he said. "But this ranking is a really exciting validation of the work that we're doing and is really exciting to see. It shows how far we can go when we put resources behind sustainability and climate action. Ratings and rankings are great, but it's also a great recognition that we are doing the right thing in a lot of different areas."