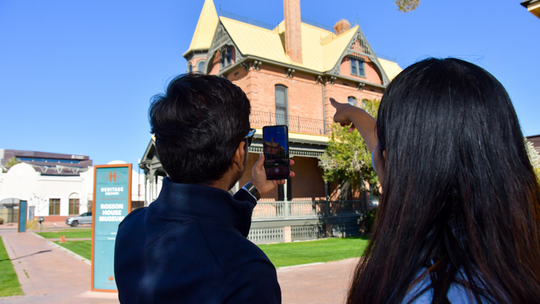 Visitors to downtown Phoenix can catch a glimpse of the city's past and future landmarks through an augmented reality experience hosted by the Thunderbird School of Global Management at Arizona State University.
Thunderbird, in partnership with the city of Phoenix, created the immersive virtual reality experience, 'Phoenix: The Global City of the Future,' which takes place Feb. 10-11 .
The augmented reality experience features sites selected by local historians, including the Rosson House Museum at Heritage Square, Orpheum Theatre, Hotel San Carlos, Burton Barr Library and Union Station in the Warehouse District. It also features "future-forward" sites such as Thunderbird Global Headquarters, according to an ASU announcement.
"Phoenix is leading in innovative technologies, including immersive experiences that advance learning at all ages," Kate Gallego, city of Phoenix mayor, said in a statement. "Powered by Thunderbird at ASU, the AR activation looks at Phoenix sites past, present, and future. This demonstration of technology offers engaging interactions which are the future of marketing, business, and workforce development. Experience the future in Phoenix."
Gallego approached Thunderbird to create a virtual reality experience in downtown Phoenix after seeing Verizon's augmented reality experience at last year's Super Bowl, held at SoFi Stadium in Los Angeles, said Sanjeev Khagram, director general and dean of Thunderbird.
"She thought, 'Couldn't we do an AR experience for fans and community members to really experience Phoenix?,'" Khagram said. "… We have a lot of technology innovation capabilities and we jumped right in. We have an incredible team here and they put together the first ever AR experience of its kind for a city in the midst of a sporting event."
AR experience includes Super Bowl activations
In addition to digital twins of historic sites, participants can view plenty of other Super Bowl fan activations, including 3D footballs and digital billboards. Thunderbird's Metaverse lab is also open, allowing attendees to create a digital twin of themselves, Travis Cloyd, Thunderbird's global futurist and professor of practice, said.
"We started with 35 different experiences," Cloyd said. "What's great is we have this volumetric capture technology right on campus. People can turn themselves into holograms and get added to the mix of experiences."
To access the augmented reality content, participants must download the VueXR app and scan QR codes located throughout Thunderbird Global Headquarters and downtown Phoenix.  
Thunderbird Global Headquarters is showcasing its state-of-the-art Innovation Center where it will host guided tours in its 4D immersive Positron chairs and games on its global collaboration table. Visitors can also view the solar system in the Haas Digital Global Forum or see live data projected onto a touchless, controlled custom LED sphere.
Events will take place from 2 p.m.-10 p.m. on Friday and 11 a.m.-10 p.m. on Saturday at Thunderbird's Global Headquarters, 401 N. First St. 
So far, Thunderbird has received an "incredible response" from participants and students about the augmented reality experience. It plans to host similar experiences in the future, Khagram said.
"We have the (NCAA) Final Four, spring training and all sorts of reasons to showcase an amazing set of assets in this AR experience," Khagram said. "It's just getting started."
---
Register for the Council's upcoming Phoenix and Tucson tech events and Optics Valley optics + photonics events.
---