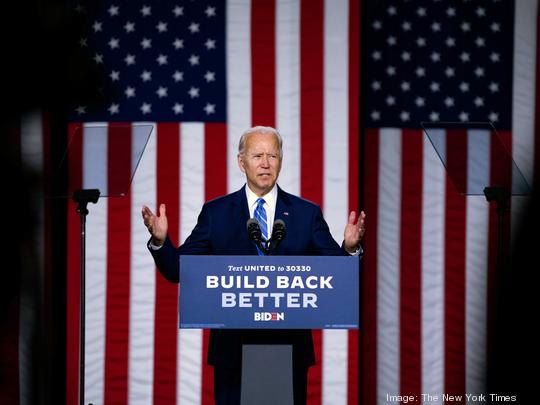 Arizonans will soon benefit from $1.5 million in federal funding from the American Rescue Plan designed to boost local entrepreneurs and economies recovering from the Covid-19 pandemic.
The Greater Phoenix Economic Council, the city of Tucson and the Hopi Utilities Corporation each received about $500,000 as part of a $1 billion program called the Build Back Better Regional Challenge. The challenge has so far awarded funds to 60 recipients across the country.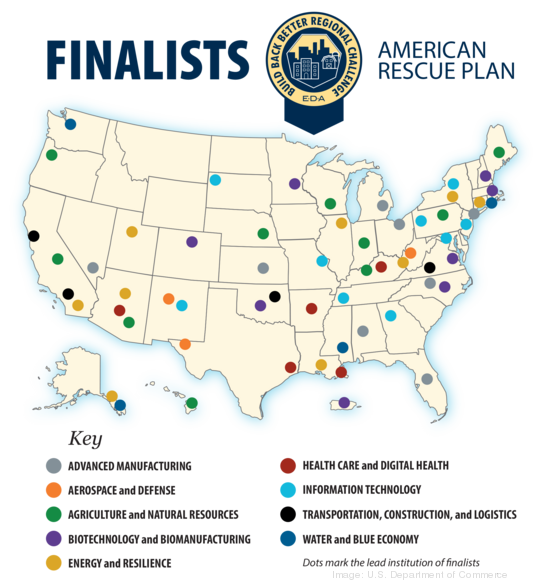 U.S. Department of Commerce
The American Rescue Plan, the $1.9 trillion federal spending package aimed at helping the country through the Covid-19 pandemic, included $3 billion for the Economic Development Agency, an arm of the Commerce Department; It's using $1 billion to run this Build Back Better Regional Challenge.
The challenge, which will distribute funds in two phases, is designed to support economic recovery from the pandemic by directing funding to local groups, especially those that have historically been marginalized.
These $500,000 awards were part of the challenge's first phase, and the 60 finalists will now be whittled down to 20 to 30 phase two winners that will receive up to $100 million each.
"The Build Back Better Regional Challenge aims to supercharge local economies and increase American competitiveness around the globe," Commerce Secretary Gina Raimondo said in a statement. "The outpouring of interest in this program shows the demand for the Build Back Better agenda and the desire to not only create good-paying jobs, but also strengthen our country's economic resiliency for years down the road."
The Hopi Utilities Corporation, which is based in Kykotsmovi Village about 240 miles northeast of Phoenix, plans to use its phase one funding to build a large-scale solar project that will replace lost revenue after the coal-fired Navajo Generating Station closed in 2019.
"We are honored to have been selected by the Economic Development Administration as a finalist for the Build Back Better Regional Challenge. This represents an enormous opportunity for Hopi to rewrite our energy history by investing in a brighter future for our Tribal Members," Hopi Tribal Chairman Timothy Nuvangyaoma said in a statement last month.
The EDA is specifically directing $300 million of its American Rescue Plan allotment to help communities transitioning away from coal and toward renewable energy sources. The Hopi Tribe reported losing 85% of its revenue as a result of the Navajo Generating Station closing.
Other funding plans
The city of Tucson is leading a group called the Southern Arizona Coalition for Climate Adaptation and Resilience which will use its $500,000 award to foster climate adaptation and resilience across the region, with specific focus on water, agriculture and supporting startups.
"The White House is looking at Tucson and Southern Arizona to lead on climate and equity. This grant funding can seed our future if we think regionally," Tucson Mayor Regina Romero said in a statement.
The city will work with Startup Tucson, the University of Arizona, Pima Community College, Arizona Western College, Greater Yuma Economic Development Partnership and the Community Investment Corporation to utilize the funds.
Here in the Valley, the Greater Phoenix Economic Council has assembled an 18-member Healthcare Innovation Coalition that hopes to foster an ecosystem of innovation across a fragmented landscape. GPEC's proposal includes making startup funding more available for early-stage bioscience firms.
"We're honored to be recognized as a driving force of economic innovation by the U.S. Economic Development Administration and the U.S. Department of Commerce," GPEC president ad CEO Chris Camacho said in a statement. "This grant will be a transformative opportunity for Greater Phoenix to leverage our strengths and leadership in health care and digital health."  
The American Rescue Plan became law on March 11, 2021 thanks to votes from Senators Kyrsten Sinema and Mark Kelly as well as all four of Arizona's Democratic House representatives. Voting against the bill were Reps. Andy Biggs, Paul Gosar, Debbie Lesko and David Schwiekert, all Republicans.
These three Arizona entities now have until March 15 to submit applications for phase two funding, which could result in up to $100 million to continue their economic development work across multiple projects.
---
Register for the Council's upcoming Phoenix and Tucson tech events and Optics Valley optics + photonics events.
---