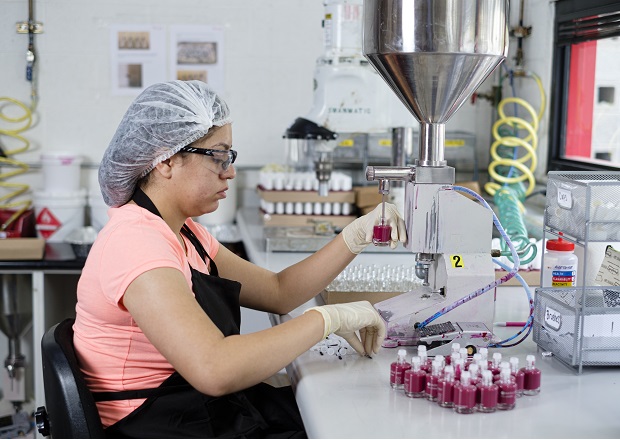 VB Cosmetics, Inc. (VBC) is a rapidly growing, vertically integrated cosmetics product innovation, marketing, sales and manufacturing company in Chandler, Arizona, which is looking for highly motivated colleagues who wish to roll up their sleeves, dig in and be part of a winning organization.
Our vision is to create beauty products for all customers to achieve personal well-being and attainable luxury. We are passionate about the beauty industry.
Our President and Founder
the heart of our success is the unique Dazzle Dry® System of Nail Care Products which was created by VBC's Founder and President, Dr. Vivian Valenty. Vivian is well known in the nail segment of the beauty industry, serves on advisory boards, participates in social media outreach and writes a bimonthly educational column for Nail Pro Magazine. Vivian has been recognized for her achievements on a number of occasions; e.g., she was featured on the 'She Made It' segment of NBC's Today on July 27th and an update during February 2023.
Our Products
Dazzle Dry (https://dazzledry.com/) is revolutionizing the nail lacquer industry through its fast-drying, durable, clean, and differentiating technology.
Our vision for Dazzle Dry is that it will be recognized as the world's most loved nail care brand providing attainable luxury for all. All of us are dedicated to providing our customers with healthy nail care products that just work.
National Recognition
Dazzle Dry has been recognized nationally with a number of industry innovation and consumer awards; most recently on:
Local Recognition
In June, the success of VBC was described in an article published by Company Week (https://companyweek.com/article/best-of-2022-editors-choice-top-5-arizona-manufacturer-stories)
VBC was recently (11/30/22) recognized as one of Chandler's top 100 companies by the Chandler Chamber of Commerce and has been featured in the Mayor's Annual State of the City message.
Recent Developments
Since 2021, VBC has occupied its custom-designed space in the new Lotus Project industrial development conveniently located near the intersection of I-10 and Santan Loop 202. The wonderful team effort which resulted in the remarkedly smooth build-out of our 40,000+ sq. ft. facility was highlighted by our development partner Keyser Realty Services in a case study: https://keyser.com/vb-cosmetics-case-study/. With this expansion, we have the space to quintuple our sales through 2025.
During 2022, the total sales and orders shipped increased 27% relative to 2021. For instance, 2022 BFCM sales doubled 2021 BFCM sales. VBC set multiple daily, weekly and monthly company sales and shipping records during 4Q22.
Equal Opportunity Employer
VBC is an equal opportunity employer. We value diversity and are inclusive. VBC provides competitive compensation, including performance-based bonus incentives. VBC provides excellent healthcare benefits to our full-time employees, including 100% paid major medical care, dental, vision, long-term disability and life insurance.
Social Outreach and Social Responsibility
We are a company of concerned and caring individuals which has planted more than 372,000 trees (as of 03/20/23) in India and Africa in partnership with the WeForest organization (https://partners.weforest.org/sponsor/dazzle-dry/). We endorse WeForest values since they also help local communities become economically self-sufficient.
We believe that good education for all is an effective way to bring social equality. Vivian attributes her life's accomplishments to her education. VBC donates a portion of its sales to nonprofits with education as the foundation of their platforms, e.g., Girls Opportunity Alliance, Black Girls Code, A Call to Men, and Beauty Changes Lives.
A Call to Action
Our growth is constantly nurtured by the enthusiasm and commitment of our employees. We foster a healthy and engaging work environment. We believe that in VBC we can achieve both collective and individual success. We play and win as a team of talented and collaborative individuals.
---
Register for the Council's upcoming Phoenix and Tucson tech events and Optics Valley optics + photonics events.
---