Tech Titan Q&A: Jan Janick, Benchmark Electronics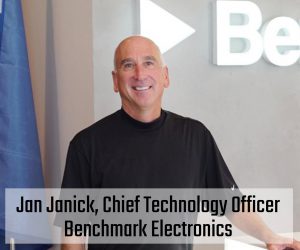 Jan Janick
Title: Chief technology officer

Age: 60
Years in industry: 37
Education: Bachelor's and master's degrees in electrical engineering, University of Wisconsin
What was the first time you knew tech would be your career? 
As a child, I had a passion for understanding how things worked. I was always taking things apart and putting them back together. Eventually, if you handed me a toy or household appliance that was broken, I could usually fix it. I was also deeply affected by the moon landing, and I remember idolizing Neil Armstrong. I was amazed at the fact that we had the technological capability and knowledge to put a human being on the moon.
What's your biggest career accomplishment? 
My biggest career accomplishments are the people that I've led that went on to have successful careers in technology. The most gratifying experience for me is coaching and challenging an individual and then seeing them achieve things in their professional career they never imagined. Helping people grow is something I continually look to improve upon, and it's a challenge that keeps me excited to go to work each day.
Who is your tech industry inspiration?
Bill Gates, whom I admire for three big reasons: He was a small fish in a big pond when he started. He faced down some of the giants in tech and beat them. His impact on the technology world has been phenomenal. He really laid the groundwork for some of the most exciting business and personal computing innovations today. The impact he's making from a philanthropy standpoint is phenomenal. Not only is a significant portion of his wealth going to the underserved, he's also galvanizing fellow millionaires and billionaires to join his efforts.
What's the best thing about working in a tech-related field? 
The opportunity to work with brilliant engineers and apply innovative technology to solve complex challenges. The process is difficult and can be grueling at times, but being part of the end-result is an amazing experience.
What's the hardest thing about working in a tech-related field? 
The most difficult part of this job is that technological achievements are short-lived. You work very hard to engineer new products and solutions, and as soon as you have achieved your goal, you have to go back to work on the next innovation to stay competitive. The pace of technology is always moving forward, and if you don't keep up you won't be around for very long.
What's the biggest challenge in adapting to the pace of technology in your work? 
Thinking strategically about where Benchmark can have the biggest impact and focusing our efforts around finding the right solutions is a constant challenge. The world of technology is unbelievably broad, and it's important that we understand the technology building blocks and expertise that are most important to our customers so we stay focused on our mission.
---
About Benchmark Electronics
Benchmark Electronics is a leading provider of comprehensive design and manufacturing solutions to customers on a global basis. Benchmark's mission is to be their customers' trusted partner; providing comprehensive solutions across the entire product life cycle; leading through innovative technology and engineering design services; leveraging optimized global supply chain; and delivering world-class manufacturing services. With locations across the Americas, Europe and Asia, Benchmark consistently delivers the highest level of market-focused services and turnkey solutions wherever our customers need them. They have a strategically located design engineering center in each of the three key regions and full precision mechanical manufacturing capabilities, both in the Americas and Asia. To learn more, visit https://www.bench.com.