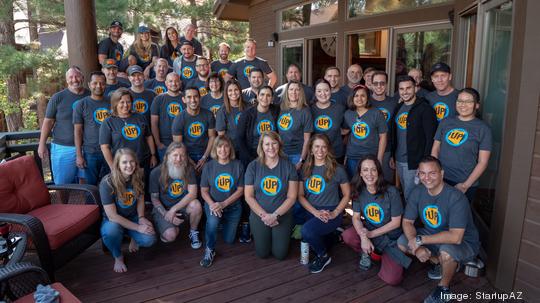 StartupAZ, a Valley nonprofit that helps foster the state's innovation ecosystem, has chosen 18 companies to participate in the 2022 StartupAZ Collective, a yearlong program for founders.
This year the participants will be split into two cohorts; The Growth group features established startups that may have employees or have raised some venture capital, while the Launch cohort is for earlier stage ventures with potential to scale quickly.
Companies participating this year work in all kinds of industries, including education, financial services, health care and more.
Diana Vowels, new CEO of StartupAZ, said they decided to do two cohorts this year after getting a particularly strong batch of applications.
"We found the quality of founders was higher than we've seen in the past," she said. "We typically will do a cohort of about 10, that's kind of our max, because beyond that, it's not as valuable of an experience…. The quality was strong enough to have two groups."
People participating in the Collective make a one-year commitment to StartupAZ and their group mates, which starts with a three-day summer retreat designed to create a sense of openness and community within the cohort.
Through the rest of the year, these founders gather for monthly check-ins with their cohort to support each other on their entrepreneurial journeys.
Vowels also said this year's cohorts are unique in that they have several serial entrepreneurs, again bringing a level of experience to the group that has not been as present in previous years. Vowels was also proud that four female founders are participating this year, but she said she'd like that number to be higher in the future.
These 2022 cohorts will be supported by StartupAZ's founders in residence, including WebPT's Heidi Jannenga, CampusLogic's Gregg Scoresby, Trainual's Chris Ronzio and many other Valley entrepreneurs.
Here are the 18 companies in the StartupAZ Collective for 2022:
Growth
Greg Reffner, founder and CEO, Abstrakt
Nate Hurst, co-founder and CEO, Active Class
Michael Houston, founder and CEO, Elevate U
Bryce Deeney, co-founder and CEO, Equipifi
Jasmine Bhatti, CEO, Navi Nurses
Josh Lau, founder and CEO, Nymbl Systems
Ryan Miller, co-founder and CEO, Peerlogic
Mahesh Vinayagam, founder and CEO, Qbotica
Lonni Kieffer, co-founder, SmartCert
Ben Bottner, founder and CEO, Steady Install
Launch
Peter Costa, co-founder and CEO, Baltutech
Kate DeGon, founder and CEO, Change Sync
Bradley Fox, co-founder and CEO, Nuclearn
Melissa Kiguwa, founder and CEO, Obanji
Srini Vasan, CEO, Petista
Brian Mohr, co-founder and CEO, Reqfast
Eric Olsen, founder and CEO, Retinent
Brett Farmiloe, founder and CEO, Terkel.io
---
Register for the Council's upcoming Phoenix and Tucson tech events and Optics Valley optics + photonics events.
---