Republic Services announces new chief financial officer
Republic Services Inc. will have a new chief financial officer starting in June after the current CFO announced his retirement from the company next year.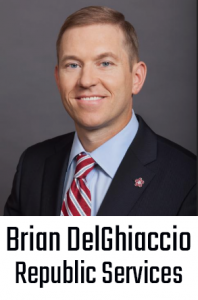 Brian DelGhiaccio, the current executive vice president and chief transformation officer, will take over the job being vacated by Charles Serianni, who announced his resignation after 23 years with the Phoenix-based recycling and waste management company.
DelGhiacchio has been with the company since 1998. He previously has served as senior vice president, business transformation office; senior vice president, finance; and vice president, investor relations.
"Brian is a proven member of our leadership team and has a deep understanding of our business objectives that drive long-term growth and shareholder value. His broad financial experience, deep business acumen and successful tenure at Republic position him and the company for continued success," Republic Services CEO CEO Don Slager said in a statement.
To read the Phoenix Business Journal article in its entirety, VISIT HERE >>