Problem solved: Pacific Office Automation delivers custom office solutions

June's Preferred Business Partner, Pacific Office Automation, offers workflow solutions to help businesses thrive and makes office printing and IT easy.
Pacific Office Automation is dedicated to the belief that a team of individuals who constantly challenge each other will develop the skills and manpower necessary to solve any problem, whether it's for the customer, the company, or the community.
Pacific Office Automation started in 1976 in Portland, Ore., selling copy machines. Forty-two years later, we are a recognized leader in office management solutions, offering state-of-the-art technology and award-winning customer service that has helped us grow to 25 offices throughout Oregon, Washington, California, Arizona, New Mexico, Utah, Idaho and Colorado.
Pacific Office Automation Business Philosophy

Although we're now the largest private dealership in the nation, we believe in maintaining an intensely local focus. We do this by building partnerships with our customers, investing in our employees, and giving back to our communities.
Take your business to the next level with fully integrated unified communications
Elevate Unified Communications is an easy-to-use, cloud-based service that helps employees to be more productive and collaborative with a full-featured phone system, combined with audio/video/content sharing, conferencing and file-sharing capabilities. Whether in the office or remote, Elevate seamlessly integrates all your communication tools – desktop phones, mobile phones and computers – into one manageable solution oriented around your employee's needs and work styles. Call today for a quick over view and see if Pacific Office Automation can save you money on your phone system.
Our Motto: Problem Solved

At Pacific Office Automation, our motto is: "Problem Solved." That means providing custom office solutions that are fast, efficient and secure. The result: a connected and highly productive office that functions at top efficiency, whether it's a one-person shop that wants document management advice or a Fortune 500 company concerned with network security.
Contact: Chris Olson, Account Executive
[email protected]  |  www.pacificoffice.com  |  (602) 344-7250
---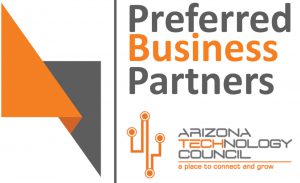 The Council's Preferred Business Partners program provides significant discounts on the products and services technology businesses need most. Don't waste valuable time collecting quotes around town—we've done that for you. Visit June's Preferred Business Partner, Pacific Office Automation, at www.pacificoffice.com, to learn how their state-of-the-art technology and award-winning customer service can help your business grow and succeed. Learn more about the Arizona Tech Council's Preferred Business Partner program and to see the distinguished  partner companies that provide high-quality products and services with highly reduced prices solely for AZTC members.