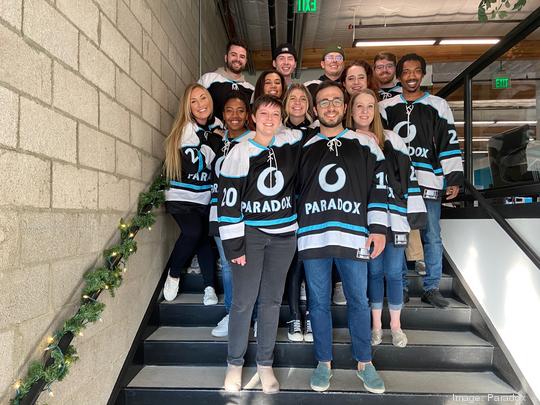 Paradox, a Scottsdale company that makes conversational recruiting software, announced Monday that it had raised $200 million in series C financing that includes a company valuation of $1.5 billion, vaulting it to unicorn status.
The funding came from a bevy of investors, co-led by Stripes, Sapphire Ventures, and Thoma Bravo with participation from Workday Ventures, Indeed, Willoughby Capital, Twilio Ventures, Blue Cloud Ventures, Geodesic, Principia Growth, DLA Piper Venture Fund and current investor Brighton Park Capital.
Paradox Inc. was founded in 2016 by Aaron Matos, who was previously the CEO of Jobing.com and Recruiting.com. The company's signature product is called Olivia (named after Matos' wife), which is a conversational AI assistant that automates the early stages of recruiting with candidate screening, interview scheduling and onboarding.
Paradox has secured some major clients in its five year history, including Unilever, Nestle, McDonald's, CVS Health, and General Motors, as well as hundreds more. Paradox helps its customers with hiring both salaried and hourly employees.
Matos told the Business Journal that despite the company's success, it's still the early innings for the company and his team expects major growth in 2023.
"Our clients don't come to us to buy software. Our clients come to us to hire people," he said. "So it's our job to help drive a better candidate experience, speed up the process."
Matos said speed is especially critical right now given how the Covid-19 pandemic has distorted the labor market; He said companies need to be speedy and transparent during hiring or else they risk losing out on qualified candidates.
More hiring to come
Paradox currently has about 400 employees at offices in Chicago, Baltimore, Tel Aviv, Singapore and Vietnam, including about 150 here in the Valley. Matos said the company intends to double its headcount in 2023, which would bring the headcount up to around 800. Paradox currently has 42 Scottsdale openings on its hiring website.
The funding news caps off an eventful year at Paradox, which saw the purchase of an Israeli startup in January and a $40 million acquisition of a Baltimore startup in August. The company raised its $40 million series B funding back in May 2020.
Paul Melchiorre, an operating partner at New York City-based Stripes, will be joining the Paradox board of directors as a part of the funding. 
"There's been a fundamental shift in how workers in every corner of the labor market find, assess, and decide on jobs. These structural changes have introduced a much heavier burden on recruiters and hiring teams than ever before," Melchiorre said in a statement. "Paradox's best-in-class product and demonstrable ROI for recruiters and candidates alike uniquely positions them, and their clients, to lead the way in improving recruiter productivity and worker outcomes."
Matos said that there has long been a discussion that there is not enough capital for startups in Arizona, but he hopes that Paradox's success proves that isn't always the case.
"If you take care of your customers and build great teams, the capital will find you," he said. "My hope is that this shows that capital will find you wherever you're at, including in Arizona."
---
Visit www.aztechcouncil.org/tech-events to view all of the Council's upcoming virtual tech networking opportunities, engaging virtual tech events and in-person tech events.
---