Earlier this year, Axon announced our Virtual Reality (VR) Simulator Training was ready for use. Simulator Training is immersive VR training that helps officers develop critical thinking and de-escalation skills and build community trust. This training was built, in large part, by a team of self-proclaimed "gamers." How did such a group position themselves to transforming the future of law enforcement? We sat down with Jada Williams, Axon Director of Product Design for Augmented Reality and Virtual Reality (AR/VR) to learn just that.
When Jada joined Axon from Microsoft just under two years ago, the Axon VR team had just 5 members. Today, the team has grown to 40 people and boasts experts in technical and product design, user research, technical art, environmental art, sound design and more.
"I feel really fortunate to have had the chance to build and create my own team," said Jada on her Axon experience thus far. "That's not something you get to do every day. I'm also SUPER proud at the diversity of the team we built. That was one of my goals when building out the team and something I'm very passionate about."
"We can't build good things without diverse perspectives." — Jada Williams, Axon Director of Product Design for AR/VR
In their shoes: officer-centered design
In the first two scenarios of Simulator Training, trainees learn safe and effective deployment of TASER 7 energy weapons and replica training firearms in first an indoor VR range environment (beginner) and then an outdoor, nighttime settings (intermediate). But how did the team of developers make sure the training was realistic?
"For the most part, the team did not have a law enforcement background. Many have never drawn a gun or fired a weapon, but they have to understand what it feels like to be in their shoes."
To overcome these gaps, the Axon VR team invested heavily in user research, conducting more than 275 hours of research, collaboration and review in the development of each module. Jada describes the team as "customer obsessed to the highest point." The only way to truly understand what officers need to get out of their training is to talk with them, as much as possible, during the product design process."
Much of the AR/VR creative team has gone through a TASER training day at TASER Master Instructor School, or MIS. This school provides instructor development and training on TASER Energy Weapon best practices, weapon handling, de-escalation, scenario-based training, and TASER program management (Evidence.com).
"We've put ourselves in their shoes, learned how to conduct TASER training. We've not only learned how to draw and hold a weapon, we understand how it works. We've been trained to train others on how it works, and through engagement with our customers, gain a clearer understanding on what they are looking for when they are doing their training."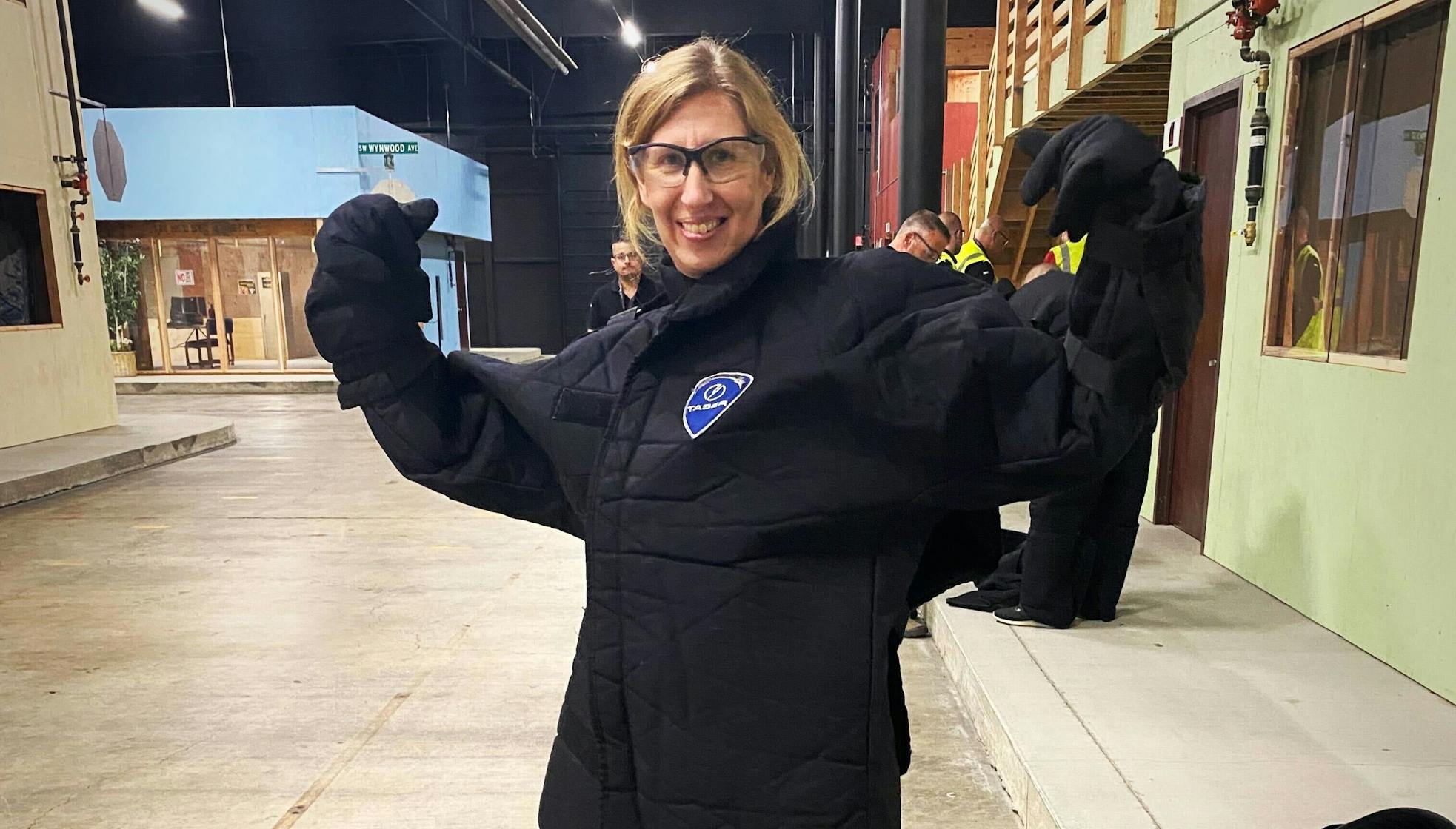 What were the findings of Jada and the VR team? There were 3 key components that were paramount in an officer-centered design of Simulator Training and VR/AR products:
1. Relationships are essential
In order to truly understand law enforcement and their needs, you must speak with law enforcement officers early and often. Through attending Axon MIS and several agency partnerships, including the Seattle and Phoenix Police Departments, the Axon team did just this.
In 2021, the AR/VR team attended every MIS certification cycle with their prototype, allowing all students to try out the system.
"Not everyone has tried VR, and not everyone is comfortable using immersive technology," noted Jada. "So, getting people comfortable with setup and usage is part of our job.
"We wanted to get people into the headset and gain a clear understanding of when they are in VR, does it do the thing they want it to do? Does it follow the learning and training objectives?"
Agencies, including Seattle PD and King County Sheriff's, visited Axon offices monthly for user testing to ensure the product was being seen and evaluated by end users.
Jada's team also conducted a 4-month long study with Phoenix PD to research VR training. The study, conducted by the National League of Cities, looked at a three-month period in which over 85 officers at Phoenix PD's South Mountain Precinct went through nine of Axon's Community Engagement scenarios in VR. The study found that 81.4% of participants said that at least one of the VR training scenarios was effective in preparing them to adapt their approach to a call. Additionally, 59% of participants found that at least one of the scenarios had encouraged them to see things from another perspective.
To date, hundreds of public safety officers have provided some form of feedback or input into Axon Simulator Training research.
2. Decentralization impacts product design decisions
"The more we talked to folks, the more we learned that the gaps, needs and requirements varied in agencies based on size and location," said Jada. "We found the TASER training and certification protocols in Seattle looked different than those in a rural location, let's say in the mid-west. Everyone does it differently."
For many of Axon's international customers, including Germany and the UK, protocols are standardized across the country, in the U.S. standards and requirements can vary greatly by location.
Axon VR Simulator Training was therefore developed to allow customization, so customers could define their learning and training objectives in accordance with their own unique requirements.
3. It's all comes down to building muscle memory
Simulator Training helps trainees build muscle memory by allowing them to respond to situations they may have never encountered in the field in realistic virtual conditions. Simulator Training utilizes limitless variables that can be introduced and changed in real-time by trainers as trainees assess situations, give verbal commands and make split-second decisions, including drawing on their TASER energy weapon and training firearms should a situation demand.
One of the greatest concerns for the Axon team was introducing training scars, or something officers would do in our training that they would not do in the real world, as this could lead to negative impacts in real-world scenarios.
When the team completed MIS training, the importance of muscle memory during a crisis event became ever more clear.
"I only had 10 minutes of firearm training right before I went through these drills and in my mind, I was repeating to myself, if you see a knife coming at you, you are supposed to pull the firearm," recalled Jada as she prepared for her final test.
When it was time for the final "guantlet-style" mock exercise, she found that her body instinctively turned to the method where she had the most training — her TASER device.
"That was my aha moment. That was when it really hit me, the training really does matter. Because there's no thinking, your body defaults to what it knows"
Police officers are known to often say, it all comes down to the training. In that moment, when Jada faced a high-stress situation that called for a split section decision, she realized first-hand she defaulted to the physical response she had been trained on.
Jada's conclusion? When there's little or no time to think, officers will react based on their training, solidifying the significance of ensuring product design that does not lead to training scars.
Level Up
Now that the product has formally launched, Simulator Training is a formal part of the MIS Certification Curriculum. The Axon team continues to research user experience, UX, and engage customers to improve the experience and inform future training scenarios.
Get paid to play
Axon is growing and continues to hire for AR/VR skillsets. Our AR/VR team hosts routine game nights or "metaverse soiree's" to foster team building and increase familiarization with VR inputs and features.
Jada advises anyone interested in a AR/VR career to get a headset. If you can't purchase one, she advises that student labs are also a great resource for trying out or borrowing headsets.
"You have to go into a lot of games and really understand what's out there," said Jada. "You don't become a good designer unless you understand all the inputs and experiences that you can design for in 3D vs 2D."
Axon Careers
We are on a mission to Protect Life. We're building technology to change the world, pursuing society's most formidable safety and justice issues with our ecosystem of devices and cloud software. If this sounds like a mission you would like to be a part of, check out our resources below:
---
Register for the Council's upcoming Phoenix and Tucson tech events and Optics Valley optics + photonics events.
---