November 2022 TechCast | Successfully Doing Business with the Public Sector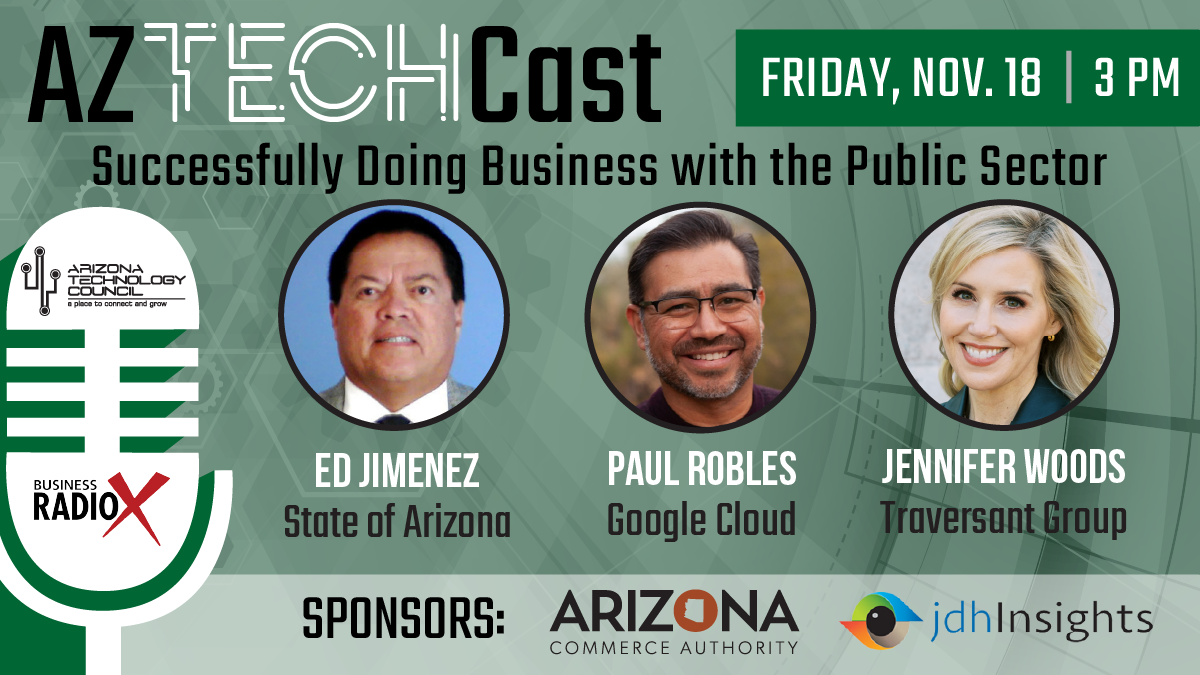 Subscribe to AZTechCast today so you never miss an episode.
If you've ever considered doing business with state or federal government entities, you know that the procurement and government sales process can feel like a maze of rules and regulations. So, how can your company stand out from competitors when pursuing business opportunities with the public sector?
The November 2022 episode of the Arizona Technology Council's AZTechCast podcast featured experts including Ed Jimenez, director, State Procurement Office, State of Arizona; Paul Robles, sales executive, State and Local Government, Google Cloud; and Jennifer Woods, president, Traversant Group. These leaders joined Karen Nowicki, president and owner of Phoenix Business RadioX, and Steve Zylstra, president and CEO of the Arizona Technology Council, in discussing the complex nuances of the public sector's primary motivations and operating models when it comes to procurement.
Throughout this hour-long episode, the panel of three experts convened in person at the Phoenix Business RadioX studio to discuss the ins and outs of why the private sector should consider doing business with the public sector, the primary barriers that prevent private companies from contracting with federal and state government entities and the advice that the panel would give smaller companies that are exploring becoming first-time contractors for the public sector. 
As the director of the State Procurement Office, Ed brought decades of experience in both the public and private sector to the conversation. Ed serves as the State's central procurement authority and is responsible for the authorization, oversight and management of the State's contracting and purchasing activities. Ed emphasized that in recent years, the State has made a lot of progress towards simplifying and digitizing the procurement process, including developing a solicitation management system, evolving to accommodate remote work and implementing a state-level FedRAMP marketplace to better protect sensitive data. After explaining the procurement process from federal budgets to solicitation evaluation teams, Ed encouraged the private sector to not be scared off by the complexity of government-led requests for proposals. Regardless of possible challenges, he emphasized that the government tries to offer opportunities to educate the private sector and provide needed guidance that allow first-time contractors to put their best foot forward and give the process a shot.
Prior to working for Google, Paul worked for a variety of globally recognized private corporations including Hewlett Packard Enterprise, IBM and American Airlines, giving him deep insight on how the private sector navigates business opportunities with the government. In Paul's experience, he has learned that the government procurement process requires a lot of patience, time and funding, even for a more established company like Google. For smaller companies that are hoping to become first-time government contractors, Paul's advice was to partner with a larger company that has been there, done that to gain experience and references, and to establish the relationships needed to secure and retain long-term government relationships in the future. Paul mentioned that not enough companies do their homework in advance to understand their possible client, gain a deep knowledge of their wants and needs, and articulate their story and offering in a creative way. In closing, he reminded listeners that the public sector can be a small world – make sure you not only meet, but exceed your client's expectations so that you can more easily earn business in the future.
As president and founder of Traversant Group, Jennifer has 20 years of experience in government relations, strategic planning, procurement and public policy. Her practice focuses on advising a broad range of clients from large corporations to small startups on matters involving marketing strategies and government contracts at the federal, state and local level. Jennifer is passionate about guiding contractors through key next steps once a government deal has been landed, as well as building out and acting on an effective go-to-market strategy. She believes that a public sector go-to-market strategy is actually very similar to that of the private sector – you still need to think through pricing, a persuasive sales pitch, competitor research, etc., but in the public sector, companies really need to be calculated about their procurement strategy. As Jennifer stated during the episode, "it doesn't matter if your product or service is the best in the world if you don't have a government client." In fact, she emphasized that the government is the largest consumer of products and services in the world, and the State of Arizona alone has spent over $7 billion on solutions in the past five years. Jenn's advice for those hoping to successfully navigate government sales? Don't be afraid to start small at the local level.
Despite the numerous challenges that can arise when attempting to do business with the government, all three speakers emphasized that there are a variety of resources at your disposal to help guide you. They also underscored one major benefit of working with the public sector – everything is public record. There is no need to wine and dine your clients to get information about how a solicitation will be managed because the government is responsible for safeguarding taxpayer funds and allocating them prudently.
Watch the replay below to get even more helpful information about successfully navigating the public sector procurement process!
ED JIMENEZ
Director, State Procurement Office, State of Arizona

PAUL ROBLES
Sales Executive, State and Local Government, Google Cloud

JENNIFER WOODS
President, Traversant Group

About AZTechCast
The official podcast of the Arizona Technology Council, AZTechCast is dedicated to covering innovation and technology in Arizona and beyond. Through the art of the connected conversation, AZ TechCast's hosts and guests share success stories, tech news and analysis about the region's leading startups, companies and emerging technologies, as well as the latest industry trends and critical issues propelling Arizona's growing technology ecosystem. Visit www.aztechcouncil.org/techcast to learn more or to listen to recent episodes.
About Phoenix Business RadioX
Karen Nowicki is the owner and president of Phoenix Business RadioX. Amplifying the voice of business, Phoenix Business RadioX helps local businesses and professional associations get the word out about the important work they're doing to serve their market, profession and community. A successful author, speaker and the creator of Deep Impact Leadership™ and SoulMarks Coaching™, Nowicki is a two-time recipient of the prestigious national Choice Award® for her book and personal development retreat. In addition, Nowicki has been an expert guest on regional TV and radio shows, including Fox Phoenix Morning Show, Sonoran Living, Good Morning Arizona, The Chat Room and Mid-Day Arizona. Recognized for her leadership and business acumen, she has been a regular contributor to many print and online magazines – publishing articles and blogs for business and education.
---
Register for the Council's upcoming Phoenix and Tucson tech events and Optics Valley optics + photonics events.
---