Nonprofit expands to Phoenix to offer free tech training for high-growth IT positions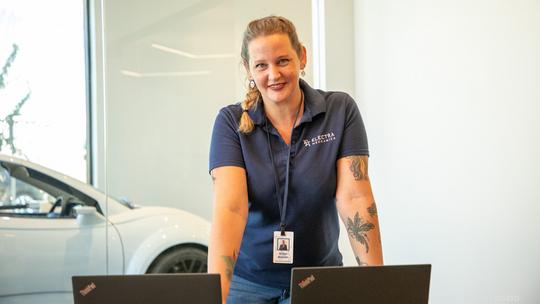 South Bronx, New York-based Per Scholas is recruiting 180 students for free technical training and professional development programs in metro Phoenix.
Since its founding in 1995, the nonprofit has grown to operate 19 locations across the country, said Jaclyn Boyes, managing director for the Per Scholas Phoenix office.
She now is recruiting students for IT support and Full Stack Java software courses over the next year.
The nonprofit offers free tech training, professional development and employer connections to often-overlooked talent — people of color and females in particular — who are unemployed or underemployed, Boyes said.
"This is a nontraditional career path that can actually work for people," she said.
In 2021, Per Scholas graduates launched 1,949 tech careers nationwide. Since expanding to Phoenix in May 2021, Per Scholas has enrolled and trained 59 students.
"This year we are seeing a 100% certification rate and a 95% job attainment rate," Boyes said. "Our learners are getting certified and they are getting hired."
About 85% of the learners are minorities and 23% identify as female, she said.
"We are helping them to jump-start their high growth tech careers," she said. "We work with 650 employers across the country to hire our talent," from innovative startups to Fortune 500 corporations.
One of those partners is Hanover, Maryland-based TEKsystems Inc., which was instrumental in Per Scholas expanding to Phoenix, Boyes said.
"It has been really exciting to watch the progression of that partnership," said Kristen Corona, regional vice president for the Southwest region of TEKsystems.
"A main goal of the program is to really advance economic equity through upskilling and training for technical careers," Corona said. "A lot of customers have a high volume of technical positions open and don't have enough people to fill them. Per Scholas has been able fill that void."
Amber Braaten graduated from an A-plus certification boot camp in June.
The 40-year-old, who has seven children between the ages of 10 and 21, is now a desktop technician for ElectraMeccanica Vehicles Corp. (Nasdaq: SOLO) in Mesa, where she sets up computers for new hires and helps with IT tickets.
While she was with Per Scholas, she earned 11 certifications.
"It was a lot of work, but I love my job," she said. "I am doing what I really love to do. The people are amazing. It's never dull."
---
Register for the Council's upcoming Phoenix and Tucson tech events and Optics Valley optics + photonics events.
---