Honeywell Aerospace and Solugenix execs elected to Council Board of Directors
The Council Bolsters its Board's Diverse Expertise and Knowledge in Aerospace, Defense, Space and IT with Longtime Arizona Technology Leaders
The Arizona Technology Council announced it has appointed Mike Stewart, vice president of Advanced Technology Engineering, Honeywell Aerospace, and Amit Bhandari, vice president of Strategic Relationships, Solugenix, to its board of directors. Stewart and Bhandari were elected unanimously to serve three-year terms at the Council's quarterly board meeting held on January 28, 2021.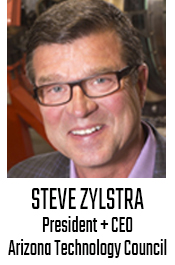 "Mike and Amit are tenured innovation leaders in our state and offer fresh perspectives to the Council's prestigious board," said Steven G. Zylstra, the Council's president and CEO. "The expertise, knowledge and energy they bring to the table will have an immediate positive impact on our members and Arizona's technology industry as a whole."
The board of directors serves an advisory and fiduciary role by representing the interests of the state's technology industries in the Council's strategic planning and ongoing operations. The current board consists of 32 members representing a diverse set of organizations.
Stewart and Bhandari each have deep experience in a range of technology sectors and possess diverse skill sets that will contribute to the Arizona technology community's continued growth. Their respective biographies are:
Mike Stewart, vice president of Advanced Technology Engineering, Honeywell Aerospace
As vice president of Advanced Technology Engineering for Honeywell Aerospace, Stewart uses his experience to drive new technologies into products and services that best meet customer needs. Stewart leads a team of scientists and technologists who define the future technologies and products to be implemented in markets ranging from avionics to space and defense.
Stewart has more than 30 years of experience in aerospace and was previously a Honeywell Corporate Fellow leading technology insertion into products across the corporation and leading the Honeywell Fellows organization. He has led large engineering organizations and projects across the aerospace industry.
Stewart is engaged in the Arizona community as a member of the Arizona Chamber of Commerce & Industry Defense, Aerospace and Aviation Committee, and West Valley Defense Alliance. He also participates in the Ira A. Fulton Schools of Engineering Industry Engagement Catalyst. Stewart obtained a Bachelor of Science degree in electrical engineering from Utah State University in Logan, Utah. 
Amit Bhandari, vice president of Strategic Relationships, Solugenix
Bhandari is an experienced business leader with established credentials in sales, digital transformation, client advisory, marketing, service delivery and operations. Bhandari is deeply passionate about next-gen tech and adoption across industries, and his specific focus is on the Arizona market and Solugenix's growth in the state.
In his role, Bhandari helps clients navigate the shift in the technology landscape with wider adoption of digital and social paradigms, and building strategies and capabilities based on business insights and artificial intelligence. He has strong competency in the cards and payments industry with a special focus on client acquisition, management and loyalty, digital payments, omnichannel user experiences, and data science-based analytics.
Bhandari obtained a Master of Science degree in computer science from SCSIT, DAVV and an MBA from the Institute of Management Studies in India.
Companies represented on the Arizona Technology Council Board of Directors include:
AccountabilIT, Alerion Capital Group, Alliance Bank of Arizona, American Express, APS, Arizona Commerce Authority, ASU-Office of Knowledge & Enterprise Development, Avnet, Ballard Spahr, Benchmark, Encora, EY, Greenberg Traurig LLP, Honeywell Aerospace, IBM, Ideas Collide, Illume Advising, Intel, Iron Mountain Data Centers, KEAP, KEO Marketing Inc., LaneTerralever, Lyft, MSS Business Transformation Advisory, PADT, PayPal, Phoenix Business Journal, Quarles & Brady, Rincon Research, Solugenix, Tech Parks Arizona – University of Arizona, TGen, University of Advancing Technology and Vonage Business Solutions Group.
About the Arizona Technology Council
The Arizona Technology Council is Arizona's premier trade association for science and technology companies. Recognized as having a diverse professional business community, Council members work towards furthering the advancement of technology in Arizona through leadership, education, legislation and social action. The Council offers numerous events, educational forums and business conferences that bring together visionaries, leaders and employees to make an impact on the technology industry. These interactions contribute to the Council's culture of growing member businesses and transforming technology in Arizona. To become a member or to learn more about the Arizona Technology Council, please visit http://www.aztechcouncil.org.
---
Visit www.aztechcouncil.org/tech-events to view all of the Arizona Technology Council's upcoming virtual tech networking opportunities, engaging virtual tech events and in-person tech events.
---