Here's how much the Arizona tech sector is growing

The Arizona Technology Council released its latest quarterly Arizona Technology Industry Impact Report, providing valuable information on the progress of the state's technology sector to its members, as well as business, economic development and government leaders. The new data shows a 29% increase in STEM job postings in December 2020 vs. December 2019 and a 4.3% growth in Arizona technology companies year-over-year. Arizona tech sector Q4 highlights can be found in the Council's Impact Report infographic here.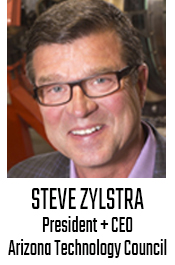 "Despite a challenging year caused by the spread of the COVID-19 virus, Arizona's technology sector was able to rebound quickly and even outpace Q4 2019 in several significant growth metrics," said Steven G. Zylstra, the Council's president and CEO. "The pandemic shifted the way we work and live drastically, and technology became a catalyst for rapid change. The state's technology leaders have been responsible for a number of innovations that have been critical to navigating these difficult times and it shows in Arizona's continued growth."
Positive data points in the latest report include a 6.2% employment growth in technology—higher than other states in the region—and a 1.02% increase in technology wages. The report also outlines a number of challenges, including a 115% drop in Small Business Innovation Research and a nearly fivefold decrease in Small Business Technology Transfer funding. However, it's not unusual for these numbers to fluctuate from year-to-year. Additionally, the portion of women in technology here also fell 2.5%.
Additional findings of the Q4 2020 report include:
Total technology industry wages – $22,665,834,342
Total technology firms – 10,093
A technology jobs multiplier of 3.76, meaning that for every 100 technology jobs added, 357 new jobs were created in other industries.
Arizona's African American technology workforce – 3.61% year-over-year increase
Technology job postings – Phoenix ranked No. 1 with 100,663, Tucson was No. 2 with 40,026
The Council also supplemented the quarterly data with published works highlighting Arizona technology industry leaders and organizations across a wide range of sectors. The published works feature highlights and news from Arizona's technology community, personal stories, critical insight and more.
Featured Arizona technology leaders and businesses include:
Calline Sanchez, vice president of IBM Systems Lab Services and IBM Systems Technical University, and Arizona and New Mexico state leader for IBM
Dr. Sunil Sharma, physician-in-chief, TGen
Eric Miller, co-founder and principal, PADT
Lea Márquez  Peterson, chairwoman, Arizona Corporate Commission
AccountabilIT
Arizona State University
Axosoft
Lucid Motors
Nikola Motor Company
The University of Arizona
On the Council's behalf, the quarterly report is compiled by eImpact, an organization that creates web-based, data-reporting solutions designed to help cities, industries and planners drive effective policy, create new growth and engage stakeholders. The report is based on eImpact's analysis of data from the U.S. Emsi, Brookings Institution, CompTIA, AngelList, National Science Board and others. Molly Castelazo, CEO and chief content strategist of Castelazo Content, also partnered with the Council to organize and develop the supplemental content, update the report design and create the infographic.
Download or view the complete report on the Council website here. The report can also be found on www.aztechbase.com.
VISIT HERE to view the article on AZ Big Media's website.
---
Visit www.aztechcouncil.org/tech-events to view all of the Council's upcoming virtual tech networking opportunities, engaging virtual tech events and in-person tech events.
---