2022 Vote TechSmart guide endorsing pro-technology Arizona legislative candidates published by the Arizona Technology Council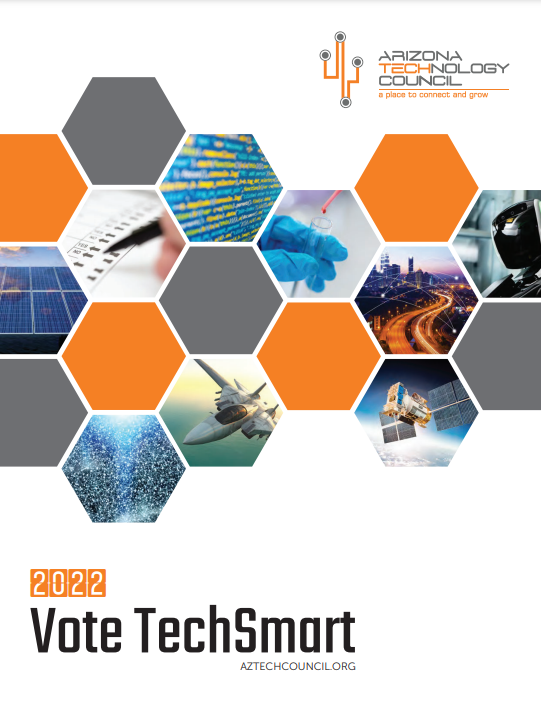 After releasing its 2022 Arizona legislative endorsements, the Arizona Technology Council today announced the publishing of its biennial 2022 Vote TechSmart voter's guide. The guide provides a comprehensive overview of Arizona legislative candidates' positions on key issues affecting the technology industry. The Council only backs candidates who support a technology agenda, so some races may have no endorsements. A printed copy of the guide is being shipped to Council partners and member organizations, and a digital version is available immediately at https://www.aztechcouncil.org/vote_techsmart/.
"Our state's economic growth and prosperity relies more and more on the strength of our technology ecosystem, and it's critical that that we support it," said Steven G. Zylstra, president and CEO of the Council. "The Vote TechSmart guide gives our members, local elected officials, stakeholders and the wider Arizona community an opportunity to be informed on the issues that matter most to our technology growth and economic development, as well as the candidates who support these issues. Ultimately, our goal is to enhance Arizona's standing as a technology hub and continue its standing as a place where technology organizations of all sizes and industries are able to start, grow and thrive."
To provide complete transparency, the guide features a detailed overview of the vetting process by the Council's Public Policy Committee followed by an in-depth explanation of the endorsements. The support for the candidates is based on several factors, including the most recent two-year voting records of incumbents, written responses to a survey and thorough interviews of new candidates.
The voting guide also includes a summary of the Council and technology community's key legislative activities over the past two years, which include:
Extending the Small Business Capital Investment Incentive, or Angel Investment Tax Credit, through June 2031
Advancing energy policy that prioritizes clean and renewable energy use
Fighting for funding for the state's P-20 education system and passage of the largest investment in public K-12 education in Arizona's history
Supporting efforts to positively impact the diversity, equity and inclusion of Arizona's workforce and leadership
Advocating career and technical education and STEM education to ensure Arizona's technology companies have a pipeline of trained talent
To stay current on politics and policies affecting the state's technology industry, visit the Technology Advocacy and Public Policy page on the Council's website at aztechcouncil.org/promoting-public-policy.
About the Arizona Technology Council
The Arizona Technology Council is Arizona's premier trade association for science and technology companies. Recognized as having a diverse professional business community, Council members work towards furthering the advancement of technology in Arizona through leadership, education, legislation and social action. The Council offers numerous events, educational forums and business conferences that bring together leaders, visionaries and community members to make an impact on the technology industry. These interactions contribute to the Council's culture of growing member businesses and transforming technology in Arizona. To become a member or to learn more about the Arizona Technology Council, please visit www.aztechcouncil.org.
---
Register for the Council's upcoming Phoenix and Tucson tech events and Optics Valley optics + photonics events.
---