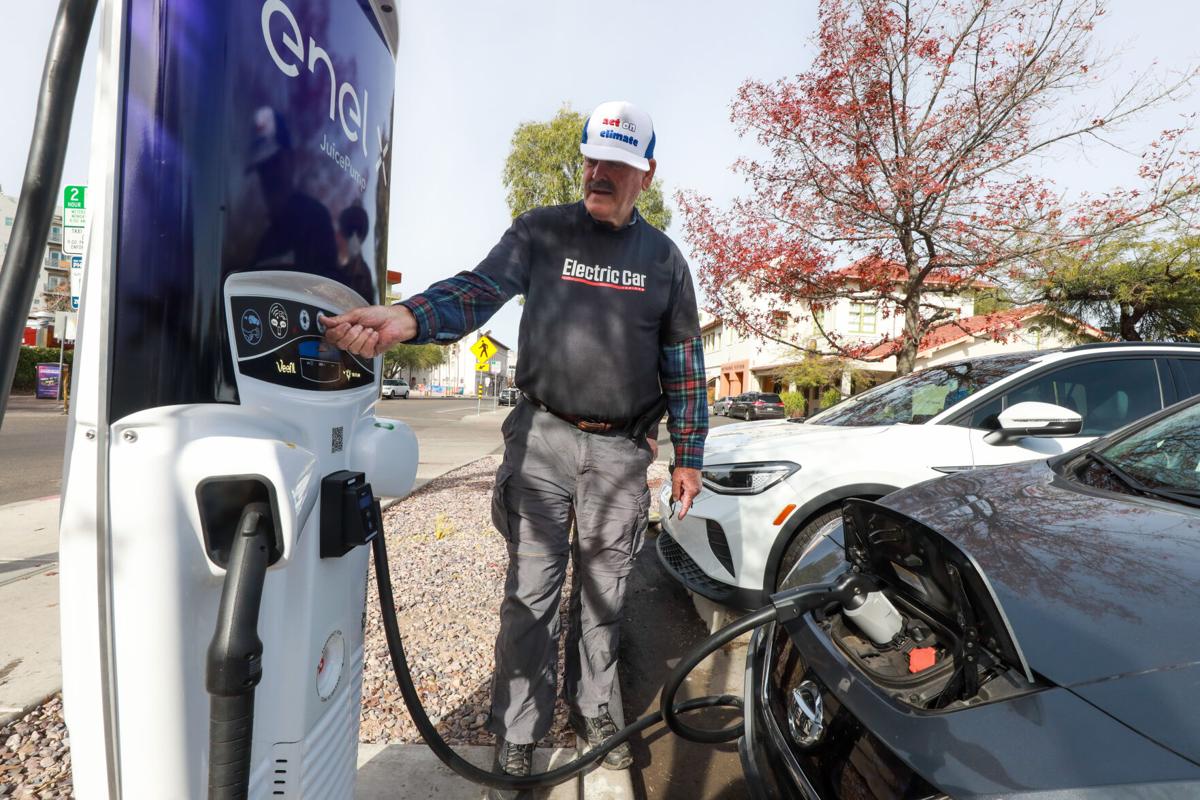 Electric vehicle drivers will have more options to recharge while in downtown Tucson, thanks to a new bank of chargers installed by Hotel Congress that is seen as a model for other businesses.
The landmark downtown entertainment venue and hotel on Tuesday christened two of four planned new public EV chargers in an adjacent lot on East Toole Avenue, in a collaboration with the nonprofit small-business advocacy group Local First Arizona.
Hotel Congress will serve as a case study for other local businesses across Arizona to work with a Local First Arizona under the group's Charge Ahead Challenge, part of a larger initiative to help address climate change while promoting resilient, sustainable businesses.
Hotel Congress owner Todd Hanley said that beyond providing a much-needed resource to electric motorists while they enjoy the shopping, dining and entertainment in downtown Tucson, the EV chargers are part of longtime company sustainability goals.
"We live and breathe sustainability, localism and what's best for the community," Hanley said at a charger ribbon-cutting event.
"For us, it's a business model, a business ethos, being good stewards of the environment, but also knowing this is the future of automobiles," he said in an interview.
The initial installation, in the south parking lot on East Toole next to Maynard's Market, consists of one Enel X Level 2 two-plug charging station, which takes several hours to recharge an electric vehicle depending on its state of charge, and an Enel X Level 3 or "DC fast charger" which can take an EV to 80% charge in under an hour.
The only other public chargers in the downtown area are at Tucson Electric Power headquarters building on Broadway, the Pennington Street Garage and the AC Hotel by Marriott Tucson garage.
Hotel Congress is still awaiting delivery of another Level 2 and another Level 3 charger, Hanley said.
Hanley and Local First founder and CEO Kimber Lanning credited a close collaboration with several other partners on the project, including Phoenix-based Chapman Automotive, Tucson Electric Power Co., the city of Tucson and Mrs. Green's World.
The Charge Ahead Challenge is part of Local First Arizona's SCALE UP (Sustainable Communities Accessing Lending and Expertise Upon Performance) program to teach small businesses to be more sustainable and resilient.
"That's a very project-specific program that helps small businesses develop a more sustainable model and then figure out how they are going to fund that transition," Lanning said. "We're here today because we believe that electric vehicle infrastructure is critically important to the future of Tucson and and the region."
Local First Arizona helped Hotel Congress with initial project planning; identifying federal, municipal and utility grants, rebates and incentives; and partnership opportunities through SCALE UP.
Tucson Mayor Regina Romero said public-private projects such as the EV chargers will help further progress on the city's climate-action goals, citing an EV "roadmap" adopted by the council last spring.
"Each of us has a responsibility to act on climate (change), and it's exciting to see the excitement from private companies and their willingness to partner with the city," Romero said. "By adding more electric-vehicle infrastructure, we will encourage our residents to buy electric vehicles."
More chargers are needed as the number of electric vehicles on Arizona roads is expected to increase dramatically over the next several years as automakers roll out more electric cars and trucks.
The Arizona Public Interest Research Group Education Fund says that to keep up with demand while supporting sustainable transportation in Arizona, installation of charging stations will need to increase from roughly 385 fast-charging plugs and 1,448 non-fast-charging plugs to more than 14,888 fast-charging plugs by 2030.
---
Register for the Council's upcoming Phoenix and Tucson tech events and Optics Valley optics + photonics events.
---