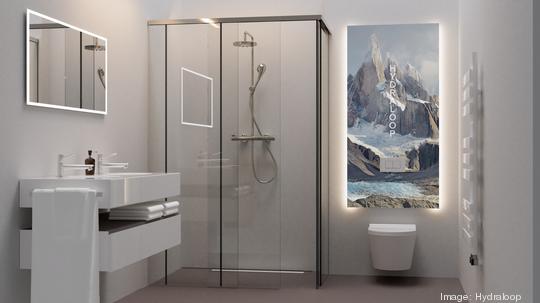 A Dutch company is launching a water recycling system in Arizona at a time when Arizona Gov. Katie Hobbs is pushing for more water conservation measures in the Grand Canyon State.
Hydraloop founders were in the Valley last week on their way to Consumer Technology Association's high-profile annual CES trade show in Las Vegas, where the company won the CES2023 Innovation Award in the Smart Home category.
Also at CES, founders Arthur Valkieser and Sabine Stuiver announced the signing of a memorandum of understanding with Atlanta-based Bowersox Investment Group Inc. to bring the Hydraloop to homes across the country, including Phoenix.
The company's goal is to empower everyone to use water twice, whether they live in an apartment or own a home. It's also ideal for fitness centers that have their own showers as well as student housing, Valkieser said.
By 2050, countries all over the world will face major water infrastructure challenges, Stuiver said.
They won't be able to offer sufficient supply of clean and safe tap water, nor will they have enough resources to treat the increased amount of wastewater, she said.
Hydraloop's technology cleans water from the shower to be re-used for toilet flushing, washing machines, garden irrigation and topping up swimming pools. It combines six different technologies: sedimentation, floatation, dissolved air floatation, foam fractionation, an aerobic bioreactor and disinfection of the cleaned water with UV light.
It can save up to 45% on water consumption, Valkieser said, and up to 45% on wastewater emissions.
Their dream is that every new building must be built "recycle ready" and that decentralized water recycling will become standard in every new building within the next 10 years.
Also at CES on Jan. 6, Hydraloop launched its latest product, Hydraloop Concealed, which is installed in the wall, taking up no floor space, Stuiver said.
The base price is nearly $2,000 for a home unit, Stuiver said. Homeowners can choose a design cover for the wall unit.
The starting price for the Hydraloop Concealed product is under $2,000, Stuiver said.
A phone app is used to help the homeowner keep track of water usage, and every use it monitored for safety, she said.
---
Register for the Council's upcoming Phoenix and Tucson tech events and Optics Valley optics + photonics events.
---