Investing in Arizona's future workforce: The New Economy Initiative
Enhancing Arizona's Competitiveness
Arizona ranks in the top 5 for key economic growth categories such as employment, population, personal income, and state GDP growth. Local economic experts have opined that with the right strategic investment, Arizona will lead the nation during the remainder of this expansion and throughout the 2020s. But this is likely only if the right public policy decisions are made today.
The Arizona Board of Regents and Arizona's public universities propose the New Economy Initiative, a new funding model to continue the momentum of the state's economy and to ensure opportunity for all.
The New Economy Initiative supports Arizona's public universities in competing more aggressively for major, national research grants that focus on transformative ideas, innovative technology and emerging economy business start-ups that drive productivity for Arizona.
A vibrant business market with an innovation ecosystem and the attraction and retention of highly skilled labor are essential for the New Economy – along with business dynamism, strong institutions and financing mechanisms. Drivers of the changing market and the need for even more highly skilled labor are revolutionizing how we work.
Steven G. Zylstra, President and CEO of Arizona Technology Council, explains why the board's New Economy Initiative is critical for Arizona's workforce development and addresses economic challenges the state will face in the future.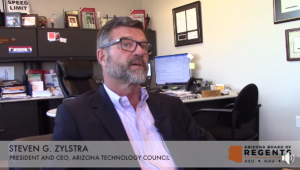 "The new economy initiative is important to Arizona in that it's investing in our future workforce," said Steven G. Zylstra, president + CEO of Arizona Technology Council. "It's investing in research that addresses the challenges we face as a society. It invests in centers that are going to be focused on addressing those challenges."
View the video of Arizona Technology Council CEO Steven G. Zylstra.
"I'm very impressed with this initiative and that all three universities have come together  to support the New Economy Initiative," Zylstra added. "It's critical that there's alignment between Arizona's state universities and that together they are focusing on the critical needs of our society and of the companies that we have here and developing the next generation of talent that we're going to need to move this state forward."
With the right strategic investment, Arizona's economy will continue to lead the nation throughout the next decade.
Read how the New Economy Initiative will accelerate the transformation of the universities into adaptive drivers of Arizona's economic success: https://bit.ly/31E02TO